PUC Hosts Valentine's Day Blood Drive
By Larry Pena on February 15, 2011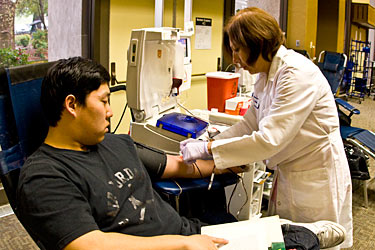 Pacific Union College hosted a blood drive February 14, encouraging the campus community to give the ultimate gift of love this Valentine's Day. A steady stream of students, staff and faculty flowed through a mobile blood bank set up in a side room of the Dining Commons. PUC's office of health services coordinates the quarterly event in conjunction with Blood Centres of the Pacific, a Bay Area blood bank.
According to Sandra Sargent, PUC's health services director, the college has often been among the blood bank's most productive collection sites. This quarter's drive yielded 55 pints in one afternoon.
To help encourage blood donation, Blood Centres of the Pacific a offered donors a variety Valentine's Day-themed prizes ranging from T-shirts emblazoned with hearts to discounts on dinner cruises on the San Francisco Bay. Furthermore, health and exercise science professor Elaine Neudeck offered extra credit points in her health class to students who donated blood.
But for many on campus, the extra incentives were not necessary. "It's a nice thing to do on Valentine's Day," says senior Natalie Vigil, a veteran blood donor.
Senior Victor Henriquez, a nursing major, made his sixth donation, citing the influence of his mother, a frequent donor, and his father, who required a blood transfusion after a bicycle accident.
Of 81 people who volunteered to give blood, 26 were turned away, most because they did not meet height, weight or hemoglobin requirements. Freshman Ravee Reid, attempting to make her first donation, was disappointed to find her blood was just short of the required amount of iron. "Giving blood has been a goal of mine—it's a good thing to do," she says. She hopes to try again with better results next time.
Sargent was pleased with the turnout at this quarter's blood drive, and aims for an even higher goal next time—recruiting 100 sign-ups. "This saves lives," she says. "Doing the blood drive every quarter meets a very logical need, and puts a service opportunity in front of everyone on campus."
Search
Keywords
Archive
PUC in Outside News
Campus Updates