PUC Education Days: Connecting Future Teachers with Jobs
By Julie Z. Lee on February 10, 2011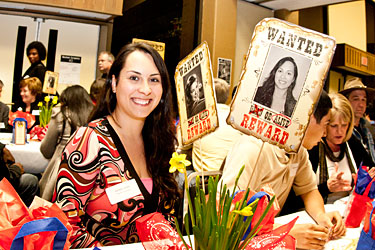 On February 7, 2011, over 100 principals, superintendents and education directors from the Pacific Union Conference of Seventh-day Adventists arrived at Pacific Union College for 2011 Education Days, an annual networking event for future educators. Organized by PUC, Education Days offers potential employers from Seventh-day Adventist schools and institutions opportunities to mingle with and interview teacher candidates from the education program at PUC.
The program kicked off with a festive western-themed dinner, and guests got into the spirit by donning cowboy boots and ten-gallon hats for the occasion. A mock band, made up of educators, provided rousing entertainment for the crowd.
Aside from dining with teacher candidates, guests also had an opportunity to meet students through a formal introduction. A longstanding tradition of the Education Days banquet, students offer a brief presentation that includes their reason for teaching and areas for which they are credentialed.
"The opportunity for the students to sit across the table from a prospective employer is a nice touch," said Kelly Bock, education director for the Pacific Union Conference. "I also appreciate seeing students perform in front of an audience that is outside their comfort zones. I learn a lot about teachers by watching how they handle situations where they might be put in front of parents or something similar… PUC does the nicest job, showcasing the students and providing an inviting venue to meet the latest program graduates."
This year eleven students shared their stories of why they have chosen teaching as a profession. For a few, it was a family tradition. Heidi Rasmussen, a future music teacher, recounted a story of taking naps under her father's piano while he gave voice lesson. Both of Rasmussen's parents are music professors at Pacific Union College, and both of her siblings are also involved in music education.
Others shared their stories of why they wanted to teach and what they have learned during their student teaching experience. Grecia Benitez, who told a story about her elementary school students in Napa, said that partway through her goals shifted.
"Instead of focusing on the great things I wanted to do, I focused on the great things my students could do one day," said Benitez.
The following day, teaching candidates interviewed with various principals and conference personnel. The combination of the social dinner and an interview afterwards is a format that Anna Molstead, representing the Nevada-Utah Conference, finds very helpful.
"The format is very informal so you talk with the students, you pray with them, and you show them what we're doing," said Molstead. " It's a great way to do this. It's very useful in hiring."
As for the candidates, they are grateful for the opportunity. Benitez, who interviewed with several principals, hopes the event will lead to a job. As for where, she leaves it up to a higher power.
"I want to go wherever God leads. That is my honest and simple answer. I'll go wherever there is a child in need," said Benitez.
Search
Keywords
Archive
PUC in Outside News
Campus Updates