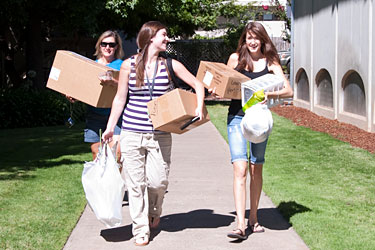 Enrollment is up once more at Pacific Union College as the Fall 2010 quarter sees 1,436 students on campus and 1,527 total enrolled in both on and off campus programs.
PUC saw a substantial jump in new students—which includes freshmen and transfer students—this fall with a 15% increase from last year as of the first day of school, making one-third of the student population new to campus.
"PUC is once again a top choice for a record number of new students, and we are delighted with this news," says President Heather J. Knight. "This is truly a reflection of the outstanding academic and spiritual environment on our campus, as well as our recent recognition by U.S. News and World Report as a best value in our region. We are committed to continuing to meet the needs of our constituents and providing them with an Ivy League quality educational product that represents a solid investment for the families that we serve."
As enrollment grew, several departments on campus experienced increases in certain programs. Although nursing continues to be the largest program on campus, the biology department came in a close second with 141 students—a 32% increase from 2009-2010. The largest increase of students in a major is in psychology, which jumped by 69% compared to last year.
Many of the biology majors enrolled are also in the pre-medical or pre-dental programs due to PUC's stellar reputation for getting students into medical and dental schools. The psychology program is also one of the college's strongest, with the department scoring in the 95th percentile of all college and university psychology departments administering Major Field Tests.
Environmental Studies is one of the smaller majors on campus, but it experienced huge growth this year. The major, established in 2008, nearly doubled in size jumping from 8 to 15. Environmental Studies is housed in the biology department and provides a foundation for students hoping to pursue a graduate degree in an environmental subject or career possibilities in areas such as air quality, conservation biology, or environmental policy.
Currently, the largest departments on campus are nursing, biology, business administration, chemistry, psychology, and visual arts.
Search
Keywords
Archive
PUC in Outside News
Campus Updates