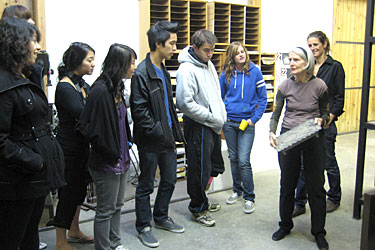 Art instructor Cheryl Daley, a local artist who teaches at Pacific Union College, took her 3D design class on an inspiring field trip this November. Daley has a bit of a family connection to the late Ray and Charles Eames, famed American designers. Charles Eames' daughter, Lucia Eames, and granddaughter, Llisa Demetrios, are sculptors based in Petaluma, California. Their studio and home contains their own work as well as many important examples of the work of Charles and Ray.
Eames and Demetrios gave Daley and her students a personal tour. "They love sharing and talking about the work of Charles and Ray Eames and their revolutionary designs for furniture, exhibitions, short films, and architecture, and about their process of working out solutions to their ideas," explains Daley. "At their studio in Petaluma they showed us many historically important 3D examples of Charles and Ray's work as well as explaining their own work and showing examples of the creative process and technical challenges of their own large-scale metal sculptures."
Christine Ha, a sophomore fine arts major, was impressed by the trip from the beginning. "Nearing the hand-painted gate designed by Lucia Eames herself, the urge to touch everything became almost unbearable," she recounts. "Several times I had to manually close my jaw because it kept dropping."
The physical beauty was continual: "Every room contained character, every wall was carefully arranged, and every picture or drawing spoke some kind of message, feeling, or was just awesome to look at," Ha says. But the personal element made an impression as well, with the warm welcome and enthusiastic explanations provided by Eames and Demetrios. "I felt like I had truly stumbled upon people who knew how to live," Christine says.
One of Eames and Demetrios' current projects is "10/10/10," which will celebrate Charles and Ray's film Powers of Ten on October 10, 2010. Each October 10 the Eames Office celebrates Powers of Ten Day to share the concept of viewing ideas from an infinitesimal to a cosmic perspective, and how each of the different scales relates to us. But on 10/10/10, their goal is to have celebrations in at least 1,000 classrooms, schools, museums and homes. Eames and Demetrios talked to Daley's group about the 10/10/10 project as a part of the ongoing influence the short films have and how the family is choosing to continue to bring that work to the public. "A lot of what was discussed was the process of bringing original ideas to fruition and how the many areas of interest for Ray and Charles fed into their work," says Daley. "The powers of ten film is a classic and many of the students have seen it."
The group also enjoyed the Petaluma studio's extensive archive of furniture and other projects as well as a large collection from "Mathematica," which is being restored for exhibition in the Exploratorium in San Francisco.
Search
Keywords
Archive
PUC in Outside News
Campus Updates