2009 Christmas Tree Lighting
By Larry Pena on December 3, 2009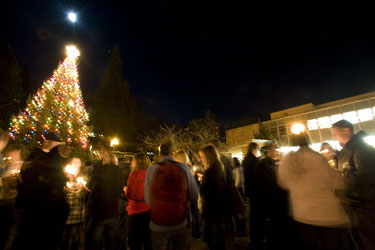 Pacific Union College officially welcomed the Christmas season November 30 with a short ceremony to light the campus Christmas tree. At 7 pm, students flocked to the center of campus to sip cider and hot chocolate, while Student Association president Scott Brizendine gave a short welcome and college president Heather Knight led a countdown to the lighting of the tree.
"It was fun getting back together with everyone I hadn't seen over the break to celebrate the season," says graphic design senior Kerry Chambers.
The lighting of the Christmas tree is a long-standing tradition at PUC. Formerly, a massive tree beside the church complex was strung with lights and "lit" after vespers on a Friday evening. In recent years, a smaller tree near the library has become the campus's Christmas icon.
The tree lighting will be followed by other seasonal celebrations on campus, including the annual music department Christmas program and various open houses until Christmas vacation begins on December 11.
Search
Keywords
Archive
PUC in Outside News
Campus Updates