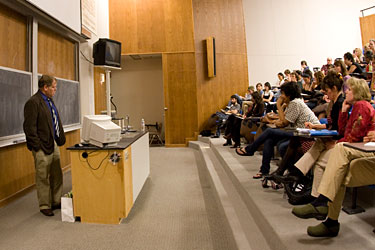 When Thomas Peele recounted the Chauncey Bailey story to a full lecture hall at Pacific Union College, he detailed the story carefully and then explained how people had come together to make sure the story didn't die after Bailey's murder.
Peele is an award-winning investigative journalist for the Bay Area News Group and is part of a team working on the "Chauncey Bailey Project." Bailey, a community journalist working for the Oakland Post, was murdered while working on a story about an Oakland organization called Your Black Muslim Bakery.
"The killing is not about him," Peele told the group. "It's about the First Amendment."
The Chauncey Bailey Project takes inspiration from the Arizona Project, a collaborative effort of journalists in the '70s to finish the work of Don Bolles, a reporter killed by a car bomb while investigating the Mafia. As Peele told the group at PUC, however, the Chauncey Bailey Project took on an additional — and unexpected — dimension when the group encountered information that created questions about the Oakland Police Department's handling of the case.
Peele gave a thorough account both of the story about Bailey and the Bakery, and about the ensuing work of the Chauncey Bailey Project. The project is ongoing, and their work has led to the investigation of the case's lead detective and two top city police officials.
After his presentation, Peele opened the floor for questions. Students asked things like, "Do you think this [murder] will result in other journalists censoring things from their work?" "Are there any ethical decisions you have to make in your work?" and "Do you plan on turning this into a book?" There were also questions about the anonymous sources, who leaked the project non-public police documents.
"The point of journalism is public service," Peele explained. "Free press is the essence, in some ways, of democracy." He explained the state shield laws that protect sources and grant news organizations the right to keep sources anonymous. And when asked how he weighs his personal safety against his journalistic duty, his response was, "The only thing worse than doing a story like this is not doing a story like this."
For more about Peele's work with the Chauncey Bailey Project, visit
www.chaunceybaileyproject.org
.
Search
Keywords
Archive
PUC in Outside News
Campus Updates