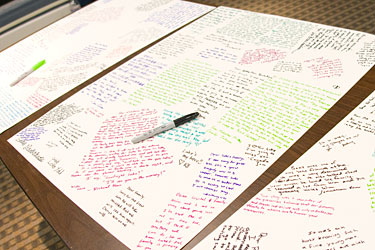 The Pacific Union College campus mood has been somber since the devastating loss of four students on Saturday night. On Monday, the atmosphere on campus — from the classroom to the dining commons and the residence halls — has been subdued as many are quietly processing the tragedy.
"They are processing it in the healthiest manner, and they are being very supportive of each other," said Robert Kurtz, dean of Newton Hall, where all four of the victims resided. Kurtz and the other residence hall deans on campus have been working around the clock to ensure that students are receiving proper counseling.
The load of caring for students has been shared with a community eager to help the college. There has been an outpouring of support from all over the Napa Valley and country. County and law enforcement organizations have called to offer additional grief counseling support, and individuals from the Valley and the Bay Area have called to see if we need more volunteers.
When the college created an online message board for people to post thoughts and memories, notes of sympathy and encouragement came in from all over the country. Some of PUC's sister schools have held special prayer meetings for their students; many have written messages of hope on the memorial website. La Sierra University, a Seventh-day Adventist school located in Riverside, California, said they planned to send a couple vans of students to the college memorial service on Thursday morning.
On campus, the PUC Church has called for volunteers to man the Newton Hall lobby 24 hours a day. The volunteers are there throughout the day to provide support to any student who needs to talk about the tragedy. Church volunteers have also brought a steady stream of snacks and comfort food to the dorm. The church outreach effort will continue throughout the week until students leave for a weeklong Thanksgiving break on Friday.
At the campus counseling center, the office hours have been extended and counselors have also been making visits to the residence halls to meet with students. According to counselor Michael Jefferson, students have been opening up. "They're talking because they are in trauma. There are a lot of conflicting emotions going on. They're trying to figure out what happened and why it happened." Jefferson encourages faculty and staff to also get counseling since "they are being bombarded by students, and it can be overwhelming caring for everyone else."
In addition to our deans and counselors, our resident assistants — student leaders who help manage residence halls — are also helping as grief workers. Having had some training, the student assistants are holding meetings, going door to door to talk to students, hanging out in the lobby, and funneling people to more focused counseling.
In remembrance, some students have started to wear green ribbons with an "N" and a "4" written on it, representing Newton Hall and the four young men who lost their lives. All over campus, everyone is taking time to stop and ask each other how they are doing and offer their support.
"If you had ever hoped a community would act a certain way in a crisis, this it is — they have responded exactly as you would hope and beyond," said Kurtz.
Search
Keywords
Archive
PUC in Outside News
Campus Updates