Losing an Icon: Malcolm Maxwell
By Julie Z Lee on October 1, 2007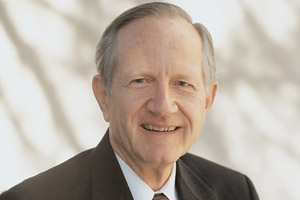 D. Malcolm Maxwell, president emeritus of Pacific Union College, passed away on Monday, October 1, 2007, at his home in Scottsdale, Arizona. He was 73 years old.
Maxwell was the first PUC alumnus to serve as president, and he had the longest tenure-18 years-of any president. He retired from the presidency in 2001 but continued to work at PUC as a professor in the religion department until 2006. In April of 2007, Maxwell and Eileen, his wife of nearly 52 years, were in the process of moving to Scottsdale to be near family when Eileen passed away.
Maxwell, son of famed Seventh-day Adventist author Arthur C. Maxwell, graduated from PUC in 1956 with degrees in theology and biblical languages. He completed his master of arts in systematic theology at Andrews University and earned his doctorate in biblical studies, specializing in New Testament, at Drew University. At Drew, Maxwell was honored as a Rockefeller Fellow and Drew University Scholar.
Maxwell taught religion at Union and Walla Walla Colleges. After 13 years in the classroom, he stepped into administration, serving as academic dean and vice president for academic administration at Walla Walla College. In 1983, he accepted the call to serve as president at PUC.
He started his presidency in the aftermath of one of the most tumultuous times in college history: just years before, the campus had suffered through the controversial Desmond Ford debate and the demolition of the beloved Irwin Hall Chapel.
Yet according to A Mountain, A Pickaxe, A College, a book on the history of PUC, Maxwell was able to turn the tide with communication skills that rivaled "FDR or Ronald Reagan on the national level. Like them, he recognized the vital importance of timing and images and had the knack, somehow of inspiring action." One of his first accomplishments was the completion of the science complex, a stalled building project on the north end of campus. As part of his revitalization effort for the school, Maxwell focused his administration on fundraising, and in 1985, just two years after Maxwell's arrival, Chan Shun Hall, was completed and dedicated.
Stated Richard Osborn, PUC president, "In many of our opinions, Dr. Maxwell was the greatest president to ever serve PUC… His legacy will live for many decades."
Flags on campus flew at half-mast for the week following Maxwell's death. At the weekly chapel service, the college honored Maxwell with the showing of a
slideshow that he narrated in 2006 on his memories of PUC
.
A memorial service honoring Maxwell will be held on November 3, 2007, at 4 p.m. at the Pacific Union College Church in Angwin, California. Dr. Lou Vendon will preside over the ceremony.
In lieu of flowers, the family asks that contributions be made to Pacific Union College in memory of Malcolm Maxwell for the benefit of student scholarships.
At this time, the family requests no calls be made to their home so they can make appropriate plans with minimal interruption.
Search
Keywords
Archive
PUC in Outside News
Campus Updates