A Taste of Art, History, and Culture
By Kimberly Weeks on September 11, 2007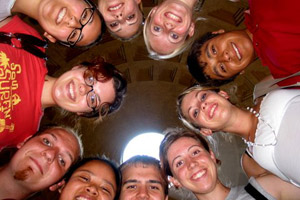 Forget the palatial gardens of Paris and the wonders of the Louvre—that is so last year. This year the honors program opted instead for Italian villas and cozy cafés as the site of its annual Summer Term Abroad. The two-week trip to Italy was for the class "Beauty," a required class for honors students that examines different concepts of beauty within the Western aesthetic tradition, particularly in the visual arts.

Previous to its trip to Europe, the honors class met informally to prepare for the class. The students then traveled to many cities and towns throughout Italy to learn on location about artists and writers from Michelangelo and Di Vinci to Aristotle. While the class visited Venice and Rome as well as several coastal towns, the class spent the majority of its time in Florence, Italy, visiting cathedrals and museums like the Santa Maria del Fiore and the Academia.

According to professor John McDowell, head of the honors department and trip sponsor, Italy was the perfect place for the students to learn about the history and art of the period they studied. "Florence is a great place for the students to see the shift from the classical models of the Renaissance period to what happens later," he said.

With such a packed schedule, it can be hard to get the real flavor of a city. McDowell says that the real fun came when students immersed themselves in the culture of a city and stopped feeling like tourists. "The students really enjoyed the different pace of life: eating gelato, drinking coffee, sitting at cafés. We encouraged them to explore," he said.

The purpose of the class however, was not solely for students to observe great works of art or to enjoy a Europe vacation. The class was also meant to help students incorporate what they learned from the art into their own lives. For the final exam, students were asked to use what they had learned from their trip to define their own unique code of beauty.

This is not the first year that Italy has been the destination of choice, and the honors class has studied in Florence before. In previous years the honors class has also visited Paris, France, and Binfield, England.

The Honors Program at PUC is structured to offer motivated students an alternative curriculum that examines culture, specifically central themes of science and liberal arts. Students must earn a specific GPA to enter the program.
Search
Keywords
Archive
PUC in Outside News
Campus Updates