Young Students Solve Crime at PUC
Kimberly Weeks & Julie Z. Lee, August 6, 2007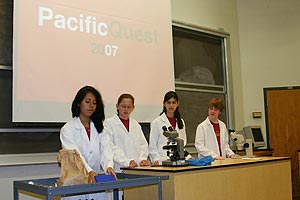 In July, 25 young students spent a week on the campus of Pacific Union College, solving crime, debating issues related to global trade, and creating artistic masterpieces. This renaissance of activities was part of the PacificQuest program, an annual event inviting young students, grades 7-10, to participate in college-level courses.

This year, the program's core class was on genetics. Bryan Ness, professor of biology, taught students how forensic scientists use genetics and biology to analyze crime scene evidence. Ness even fabricated a "whodunit" scene and asked students to employ their newfound knowledge of genetics to solve the crime.

Students also took a second course, choosing the areas of global business or digital art. In the global business, taught by business professor Dan Madrid, students learned about trade between nations, national corporations and how the world of business changes society. In the art course, taught by graphic design professor Cliff Rusch, students received hands-on training in the digital arts.

The nights were no exception to learning and creativity, featuring various interactive activities. On Monday night students learned about the Ethiopian culture from Adu Worku and took part in games and food. On Tuesday evening, students tested their knowledge in the "College Bowl" quiz game, and finished the night with a flashlight hike up to the observatory. Wednesday evening brought the talent show, where students displayed talents that ranged from harpist to stand-up comic to contortionist. Finally, on Thursday night, PacificQuest held its farewell luau where students were greeted with leis, enjoyed the pool, and learned to dance the hula.

Students completing the course received one hour of college credit and a $500 scholarship that can be applied to freshman year tuition at PUC.