PUC Students Produce Film to Prevent Infant Abandonment
Julie Z. Lee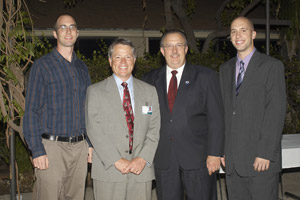 Email
| Font:
- / +
In April, a high school student, who had been hiding her pregnancy, delivered her baby in a bathtub, cut her own umbilical cord, and then proceeded to wrap her baby in a plastic bag. The infant was later found dead under her bed.

It is a horrific crime but one that is not uncommon. Each year, an alarming number of young women, hide their pregnancies, then abandon their newborn babies. While many infants survive, others have encountered devastating fates. The situation is especially tragic considering there is a law in place to protect those unwanted babies. Since 2001, the safe surrender law (also called Safe Haven or Safely Surrendered Baby) allows parents to anonymously give a newborn to a hospital, police or fire station within 72 hours of the baby's birth, without criminal implications.

The problem is that the majority of young people don't know the law exists.

"A lot of education has gone to health-care workers and adult audiences," says Jaynie Boren, vice president for strategic planning and business development at San Antonio Community Hospital. "What's been missing is information geared toward junior high, high school, and college audiences."

But all that is about to change. This past summer, Brian Bazemore and Jackson Boren, senior film and television majors at Pacific Union College, were looking for an internship. Serving as coffee runners on a set looked like the only options, but then a phone call from San Antonio Community Hospital in Upland, California changed their luck. The hospital asked Brian and Jackson to film, direct, and edit a public service film on safe surrender for teenagers.

"I remember thinking I had heard of safe surrender, but I didn't really know much about it," says Brian. Regardless, Jackson and Brian took up the challenge and dived into an intensive education session. They met with physicians and nurses at the hospital, law enforcement officials, defense lawyers, and public health educators. As they soaked up the information, Jackson and Brian began to comprehend the gravity of their roles.

"It was a big responsibility to present the law in an accurate light and make sure you don't blur the message…because this is something that can save lives," says Jackson.

The students decided to feature interviews with young women discussing child abandonment and the safe surrender law to provide perspective from a teenager's point of view. "I'm just so glad that Brian and Jackson came up with this awesome idea," says Rhonda Matthews, a registered nurse at San Antonio who worked with Jackson and Brian. "They wanted to show what young girls have to say so that they can relate to the girls who are watching. I think that is the most powerful thing."

Seven weeks later, the students handed in a finished product focusing on the message of "no shame, no blame, no names." On October 11 San Antonio premiered the film to over 200 health educators, public officials, and law enforcement officers. Among the special guests were California Senator Bob Dutton, who drove the bill to extend the Safe Haven Law permanently (it would have expired earlier this year), and Debi Faris- Cifelli, founder of Garden of Angels, a non-profit organization for the prevention of infant abandonment.

The response has been one of "overwhelming support—it's boggling my mind," says Jaynie. Already, their initial order of 500 dvd copies is nearly gone and reprints are on the way. The hospital hopes to work with Senator Dutton on distribution to schools and perhaps making it a part of the statewide curriculum.

This is Jackson and Brian's second partnership in a film production. Last year, the two, who have been friends since fourth grade, worked on a documentary called Everyday People, which focused on the college experience at PUC. The piece received a special jury prize at the 2006 SonScreen Film Festival. Safe Surrender, their second collaborative project, is also garnering good reviews and plenty of local press. But for the two aspiring filmmakers, their personal success is secondary to a cause that only months ago they knew little about.

"I was just telling Brian a week back, if our names weren't attached to this film, I would be just as happy," says Jackson. "It's not about us. It's about the young girls and getting the option out there. Just knowing it can save lives is good enough for me."

Note: This is an archived article and does not necessarily represent current issues at Pacific Union College.