The NFL in Angwin
Lainey S. Cronk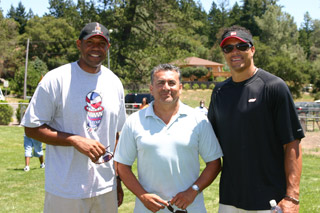 It was a glorious Friday afternoon in July. A group of teenage boys were starting a game of football on Pacific Union College's football field. But who was that tall fellow playing quarterback? The boys could tell you: it was Tony Gonzalez of the Kansas City Chiefs.

Of course, it isn't every week that these boys get to play football with a pro NFL player. But last year's visit from Gonzalez and Warren Moon was such an all-around hit that they called for a repeat performance this summer.

The teens came from New Horizons, a non-profit organization that has three Angwin and Napa homes for teenage boys. Eighteen residents from these homes gathered on the field Friday for their own private football session with Gonzalez.

They started with a question and answer time, which ranged from questions such as "How much money do you make?" to real-life advice from Gonzalez. Some of the boys also had football cards for Gonzalez to sign. After the Q&A, Gonzalez had the boys run through warm up drills before dividing into teams and playing some football.

New Horizons also has another connection with PUC: several college students have worked as counselors in the New Horizons homes. Gabe Bazell, a sophomore psychology major, was told that working with these boys would give him valuable experience for his major and career. "It definitely has!" he says.

But for the boys who gathered on the field on Friday, this was simply a remarkable opportunity to spend some personal time with a "big name" individual who was willing to also be a role model and an inspiration.
Note: This is an archived article and does not necessarily represent current issues at Pacific Union College.