Graduation 2023
June 16-18, 2023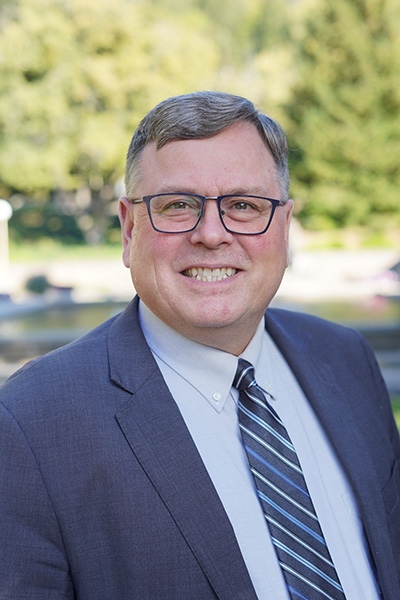 We are pleased to invite you to the Pacific Union College Graduation Weekend for the class of 2023. Events will be held all weekend from Friday, June 16-Sunday, June 18. College commencement is a high point in the lives of our students and their families, and we are excited to honor and celebrate our graduates as they transition to the next chapter in their lives.
We are proud of our high-achieving senior students, who give warmth and add friendliness to our campus, that builds a friend network for life. This diverse class is exceptionally dedicated to strengthening spiritual life throughout the community and being leaders to others in all services through worship, Bible study, and outreach. It is a joyous sight to see them learn with purpose, rise in faith, and serve with love.
I look forward to meeting you at PUC and celebrating our graduating class!
Warm regards,
Ralph Trecartin
President
Schedule of Events
Thursday, June 15, 2023
Adventist Colleges Abroad (ACA) Stole Conferment - Irwin Hall Lawn
Guests are welcome to join the World Languages department in recognizing Adventist Colleges Abroad alumni who have equipped themselves to serve as bridges between cultures and languages.
5:00 p.m.
Friday, June 16, 2023
Donuts & Rehearsal for All Graduates (MC)
10:30 a.m.
Rehearsal for Nursing Graduate Recognition (CS)
1:00 p.m.
Social Work Consecration (SC)
Guests are welcome to join the Social Work department in consecrating the program's graduates for service to God and humanity.
4:00 p.m.
Consecration - Vespers (CS)

8:00 p.m.
Refreshments for Seniors & Guests (CF)
Graduating students and their families are welcome to stay for refreshments immediately following vespers.
Immediately Following Vespers
Sabbath, June 17, 2023
Sabbath School (CS)
10:00 a.m.
Baccalaureate (CS)
11:15 a.m.
Nursing Graduate Recognition Service (CS)
All are invited to this special program, which will include nursing awards and the traditional nursing pinning ceremony.
3:30 p.m.
Teacher Dedication (SC)
The Education department invites everyone to see teacher candidates dedicated at a special ceremony.
4:00 p.m.
President's Reception for Seniors, Parents & Faculty (DC)
Graduates and their families are invited to a reception with the President and faculty. A selection of graduates' final projects will be displayed. Light refreshments will be served.
5:30 p.m.
Sunday, June 18, 2023
Senior Class Picture (CF)
8:15 a.m.
Commencement (MC)
9:00 a.m.
(CF) Church Fountain, (CM) Campus Mall, (CS) Church Sanctuary, (DC) Dining Commons, (MC) Maxwell Commons (near Paulin Hall), (SC) Scales Chapel
Information for Graduates
Commencement Attendance
Graduands are warmly invited to bring family and friends to this special event. The Commencement ceremony will take place on the Maxwell Commons, with an open seating policy. Once the seating allocation is exhausted, guests may find standing room behind the seating area or watch in the Church Sanctuary where the livestream of the ceremony will be screened.
Important Dates
Graduation Requirements nested from Records Website
Important Dates
April 10, 2023
Final deadline to apply to graduate. Applications are not accepted after this date except through petition process. If approved, late applications subject to $75 fee plus $75 penalty.
May 1, 2023
Last day to order regalia. Must have regalia to participate in commencement.
June 18, 2023
General Commencement – arrive no later than 8:00 a.m.
Ordering Graduation Announcements
Announcements may be ordered directly from the company, CB Announcements. Once an order is placed, announcements are sent via ground shipping, which takes 5-7 days. Overnight or two-day delivery is also available. If changes are needed to be made to an existing order, call the toll-free number and provide the order number. More announcements may be ordered after graduation as well, as there is no deadline for ordering.
CB Announcements
P.O. Box 781
Manhattan, KS 66505-0781
800-433-0296
cbgrad.com
Regalia
Academic regalia representing education and academic accomplishments is a longstanding tradition that dates back to universities in medieval Europe. Three basic types of gowns are worn: associate's and bachelor's gowns have long sleeves; master's gowns have long, closed sleeves; and doctorate gowns have full sleeves with velvet bars. Associate's, bachelor's, and master's caps are mortarboards while doctorate's caps are berets. The tassel should be the color of the appropriate subject, with the exception of the doctor's cap that may have a tassel of gold.
Black cap and gown: M.Ed., M.A.T., B.S., B.A., B.F.A., B. Mus. B.B.A.
Navy cap and gown: A.S.
White cap and gown: A.S. in Nursing
Regalia is required to participate in Commencement. You may order your regalia at Oak Hall. To reduce wrinkling, hang the gowns as soon as possible. If ironing is necessary, use a cool iron. Questions regarding regalia may be directed toward the graduation coordinator at graduationcoordinator@puc.edu.
Regalia Ordering Deadline: May 1, 2023
To reduce wrinkling, hang the gowns as soon as possible. If ironing is necessary, use a cool iron. The gowns belong to you to keep or dispose.
Regalia Policy:Students, faculty, and staff in academic regalia may wear only approved honor cords, medallions, and stoles, as described in the Commencement program; stoles honoring their ethnic/cultural heritage, status as a 1st generation graduate, or service in the military which are purchased through PUC's official provider; or, in the case of faculty and staff, academic honors earned at other institutions. Graduation caps may be decorated; however, all other official regalia must not be altered or modified in any way. Graduates may also wear appropriate leis given to them. The College retains the right to confiscate any regalia items that violate the regalia and/or College policies.
Instructions by Event
Commencement Rehearsal:  All candidates for degrees should meet at Maxwell Commons on Friday, June 16, at 11:00 a.m. (donuts at 10:30 a.m.) Once there, take a seat near the front so rehearsal can begin promptly. You will then receive further instructions.
Nursing Graduate Recognition Service Rehearsal (Nurses' Pinning):  All A.S. and B.S. candidates for nursing degrees should meet in the Church Sanctuary on Friday, June 16, 2023, promptly at 1:00 p.m.
Baccalaureate:  The Baccalaureate service includes a formal processional. All candidates for graduation should be dressed in their regalia by 11:00 a.m.—those who must leave Sabbath School early to get their regalia for the Baccalaureate service should sit in an area from which they can leave inconspicuously.
The Baccalaureate processional assembly will take place in the area between Paulin Hall and the PUC Church. The candidates for graduation should form two single lines, with the senior officers at the head of each. Students may choose the order in which they march, except that the two lines should be of equal length, and they are grouped with seniors wearing the same robe color. Seniors wearing black regalia will march first, followed by those in blue regalia and then white regalia. Men, please remember to remove your caps during prayer.
Nursing Graduate Recognition Service (Nurses' Pinning):  All candidates for A.S. or B.S. degrees in nursing should meet in the Fireside Room by 3:00 p.m. to prepare for the service at 3:30 p.m. Participation in the Nursing Graduate Recognition Service is required. Those unable to attend must obtain written permission from the Chair of the Department of Nursing and Health Sciences no later than one week before graduation.
Commencement:  A group picture will be taken at 8:15 a.m. on the stairs by the fountain. Immediately following the group picture, seniors are to go to the front of the Church Sanctuary and find their designated seat. Each person must be in regalia (tassel on left) and positioned in the line of march as specified during the Friday practice. It is important that the line order correspond with the order in which the seniors present themselves for diplomas so the academic dean will read the correct name of each senior during the Commencement ceremony.
Graduation Requirements
Graduation Requirements nested from Records Website

Those planning to complete their Associate, Bachelor, or Master degree at any time during this school year, must submit an Application to Graduate, sign a Graduation Contract, and submit a voice recording of their name. Please read the following information carefully:
Applications: accepted online via email. Candidates for graduation may request an application form by email to gradanalyst@puc.edu If possible, they should print and complete the application by hand, or use software that allows them to type over a PDF. If printed, the application should be re-scanned or photographed as a PDF Scans and photographs must be fully clear and legible. Applications should be returned as a PDF attachment by email to gradanalyst@puc.edu.
Printed, signed program evaluations will no longer be required. Candidates for graduation must still be fully registered for all courses needed to complete their degree, with the exception of GNST 201 or 401, and must still contact their advisor. However, the Graduation Analyst will accept an email from their advisor, directly to gradanalyst@puc.edu, confirming that they are aware of the intent to graduate with the specific degree being completed, and that they have reviewed and approve of the plan. The Records Office will print a copy of the program evaluation for the candidate's file, and include a copy of the advisor's email in lieu of their signature. The Records Office will need an email from each advisor for each degree a graduation candidate plans to graduate with.
Candidates for graduation will need to provide an audio recording of their name pronunciation as they wrote it on the Diploma Name line of the application. These recordings should be clearly understandable for use as a guide for pronouncing their name correctly. They should be emailed to gradanalyst@puc.edu as an attachment in either .MP3 or .MP4 format.
The Records Office will accept graduation contract agreements by email. Once the application is accepted and approved, the graduation candidate will be provided with an email for the graduation contract.
Please note that any coursework being transferred from another institution must be received NO LATER THAN April 10, 2023. This means that the transfer coursework must be completed prior to Spring Quarter. If graduation candidates are transferring courses in and PUC does not have official record of them yet, the printed proof of completion (including final grade) or proof of enrollment for these courses.
Master degree candidates should meet with their advisor, ensure all courses are registered, and ask their advisor to e-mail the Graduation Analyst confirmation that their degree will be completed during the 2023 academic year. Master degree candidates are only required to bring their completed Application to Graduate to meet with the Graduation Analyst.
If you have any questions, please contact the Graduation Analyst, Peter DeWeber, in the Records Office at (707) 965-6676, or by e-mail at gradanalyst@puc.edu.
Family and Guests
Family and Guest Attendance Information
Saving Seats:  All weekend events have an open seating policy. Families and guests are allowed to save seats under the following conditions:
A representative must be present and remain present to reserve seats. Items left on seats will be considered lost and taken to the Lost and Found station.
Baccalaureate:  Seats may not be saved past 11:05 am.
Commencement:  Seats may not be saved before 7:00 am, nor may they be saved after 8:45 am.
Commencement:  Commencement will begin promptly at 9:00 a.m. on June 19, 2022, at the Maxwell Commons.  It is highly recommended that guests arrive at least an hour early in order to find parking and find seats in advance of the processional.
What to Wear at Commencement:  Weather in Angwin can vary from foggy and chilly to sunny and warm in June. It is highly recommended that guests consider the weather forecast when considering their attire for the ceremony. In addition, Maxwell Commons is primarily lawn, so high heels are not recommended.
Ceremony Etiquette:  Guests at the Maxwell Commons are welcome and encouraged to cheer as they celebrate their graduate; however, airhorns and confetti bombs are prohibited and will be confiscated by event staff. Confiscated items will be held at the Information Booth for guests to pick up after the ceremony.  Celebratory tortillas should not be thrown during prayer or during speeches, nor should they be thrown towards the platform.
Animals:  Service dogs accompanying their designated person are the only animals allowed at Maxwell Commons and in the Church Sanctuary during the Commencement ceremony. Emotional support animals and pets are not allowed on site. As the weather may contribute to heat exhaustion of animals, pets should not remain in cars throughout the and will not be permitted to stay in cars unattended.
Drone Policy
Safety of all our guests is very important to us. Because of this, drones are not allowed before, during, or after commencement or any other graduation weekend events.
Lost and Found Policy
Any found items can be turned in to event staff throughout the weekend as well as to the Information Booth on the day of Commencement. To retrieve a lost item, contact event staff or visit the Information Booth during Commencement. An information card is available if the item has not been turned in.
In the event of a missing person, please report to the Information Booth with a description and/or picture. Public Safety, as well as the County Sheriff, will be on duty to assist.
Lodging and Dining
Campus Housing:  Candidates for graduation may reserve one residence hall room to provide lodging for their families during graduation weekend. Extra rooms may be requested and will be assigned as space is available. Rooms are available beginning at 4 p.m. on Friday, June 16, and must be vacated by 2 p.m. on Sunday, June 18. All rooms assigned to candidates for graduation are free of charge.
Residence hall rooms have two twin beds and do not come with linen. Bathrooms either are shared by adjoining rooms or are centrally located in the hall. Only service animals may accompany their designated person around campus. Emotional Support Animals and pets are not allowed in the residence halls.
Only candidates for graduation may request campus housing. To reserve a room, graduating seniors may download the housing reservation form or pick it up from the reception desk in their residence hall. Graduates must return the completed housing reservation form to the reception desk in their residence hall by Monday, May 30. Off-campus candidates for graduation should turn the completed housing reservation form to the reception desk at Winning Hall.
Area Hotels:  Lodging is available in the Napa Valley, as well as the surrounding area. Please access this list of available accommodations as a starting point.
Recreational Vehicles:  Recreational vehicles may be parked in the parking lot behind the College Market. There are no hookups available. Shower facilities in the gymnasium will be available to guests and a disposal station is located in the mobile home park.
Dining in the Napa Valley
For a list of local favorites, please see our list on our Plan Your Stay page.
Dining Commons:  Student ID cards or credit cards are all accepted at the Dining Commons.
Hours of operation
Thursday, June 15
7:30 a.m. - 6:00 p.m.
Friday, June 16
Breakfast: 9:00 - 10:30 a.m.
Lunch: 11:30 a.m. - 1:00 p.m.
Dinner: 5:30 - 7:30 p.m.
Saturday, June 17
Breakfast: 9:00 - 10:00 a.m.
Lunch: 12:00 - 2:00 p.m.
Sunday, June 18
11:00 a.m. – 1:00 p.m.
Parking
Guests should plan to arrive at least an hour early to find parking and find seating. Guests may park on the main campus. A shuttle is available from Winning Hall to the graduation site. Overflow parking will be at the College Market on Howell Mountain Road.
Traveling to PUC
Guests can fly into the following airports: Sacramento International Airport (SMF), San Francisco (SFO), Oakland (OAK). All airports are approximately 80-90 miles from the PUC campus.
Printable Campus Map & Directions Google Campus Map
Important Note: If traveling from Napa on Silverado Trail instead of Hwy. 29 and using a GPS system, please do not follow directions to drive up Old Howell Mountain Road from Silverado Trail. Instead, continue on the Trail until you reach the blinking red light. Turn right and proceed east on Deer Park Road.
Ordering Flowers
Graduation leis can be pre-ordered from Sal the Flower Guy on (707) 226-5270. Pre-ordered leis will be available for pick-up from 7:00 am on Sunday, June 18th next to Maxwell Commons. Remember to bring your receipt for pick-up. A small number of additional leis will be available for sale at graduation, but please pre-order to avoid disappointment!