Susan Bussell is Pacific Union College's 2023 Educator of the Year
By Laura Gang on May 18, 2023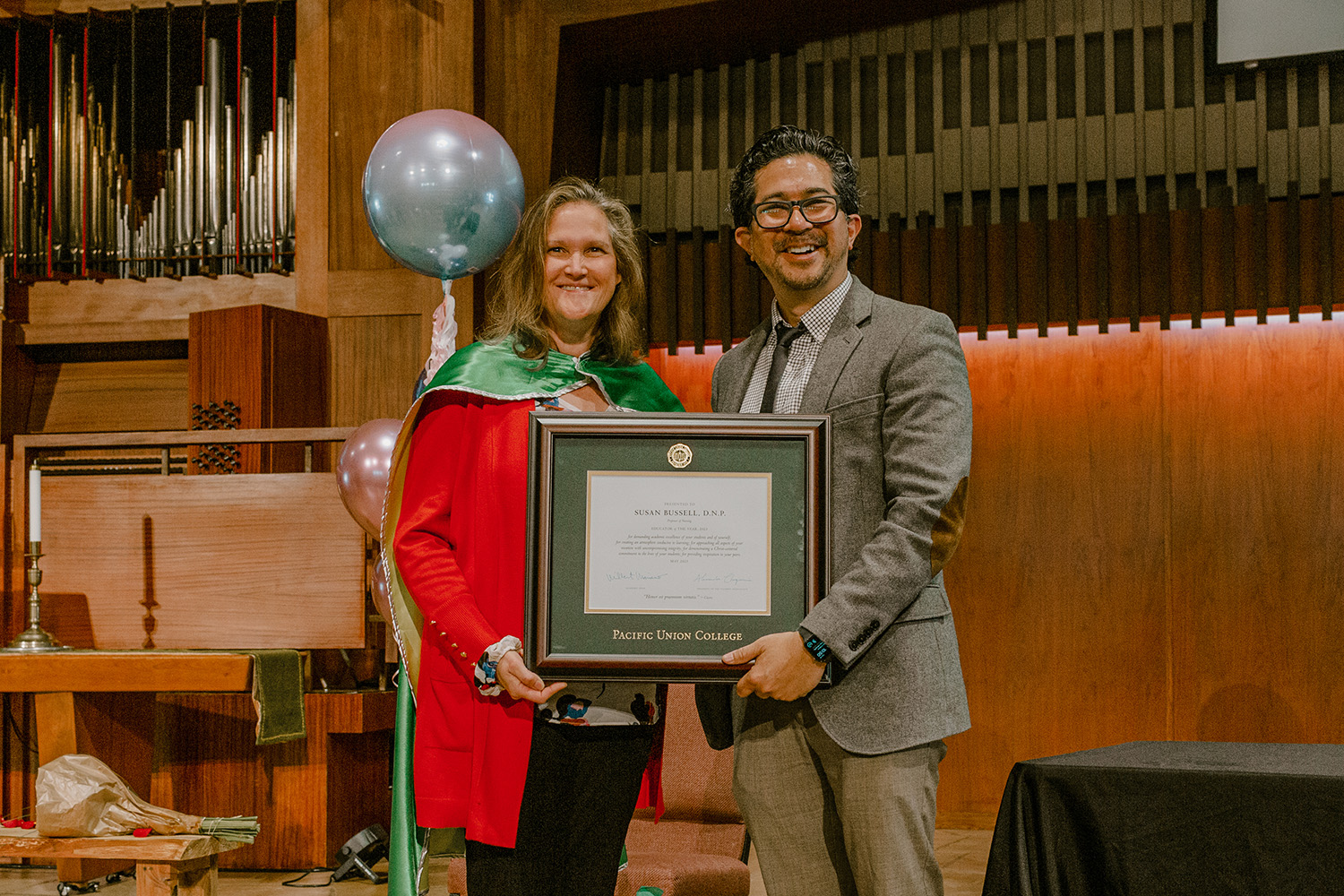 Professor of Nursing Susan Bussell was honored as Pacific Union College Educator of the Year at a special Community program in the PUC Church on May 18.
Milbert Mariano, vice president for academic administration and academic dean, said Bussell demonstrates the highest level of professionalism and expertise in her field. "She's a true advocate for nursing education, and her enthusiasm for the profession is evident in her work with students," he said. "She has a gift for inspiring and motivating her students and has been a mentor to many young nurses throughout her career as an educator."
This year marks the second time in the college's history that a professor of nursing has been selected as the Educator of the Year. Last year's honoree, Professor of Nursing Serah Choi, spoke about her journey from being a nurse to becoming an educator and looking to Jesus as her mentor. She reminded students that a little progress every day can eventually yield significant results.
Mariano and Choi presented Bussell with a framed certificate, balloons, and a bouquet of sunflowers and red roses. She was also honored with a superhero cape and a lightsaber—all traditional gifts bestowed on the college's previous honorees.
Bussell's husband, Ty, paid tribute by praising her talents and gifts. The first slide on the screen showed Bussell in the kitchen with some beautiful food presentations for her son's engagement party. Her husband explained that it was the perfect photo because she is an excellent cook. Bussell has not only made food for special occasions but also catered events.
Other fun facts he shared about Bussell were that she doesn't like early mornings or the cold, but she loves Christmas, cold pizza for breakfast and Disney. Many slides showed the Bussells and their children, Andrew, Nathan, Lauren, and Claire.
What Bussell is most passionate about, Ty said, is the salvation of her students, the faculty, and her family. "She is following the example of Paul in 1 Corinthians 3, when he says, 'I plant the seed, Apollos watered it, but God has been making it grow.' Susan dreams of that seed growing and celebrating with her students, faculty, and family someday."
Professor of Nursing Tamara Tirado described Bussell as a person of deep purpose, passion, and commitment. "From the moment Dr. Bussell set foot on our college campus, she has been a beacon of light and a source of unwavering support for her students," she said. "Her tireless dedication to the nursing profession is evident in the countless hours she spent creating a rich, engaging, and nurturing learning environment."
Bussell earned her B.S. in nursing at Loma Linda University. She later received her M.S. at the University of California, San Francisco, and her Doctor of Nursing Practice from Loma Linda University. Bussell joined the PUC faculty in 2005. She has directed the A.S.N. Program and has served on several committees. She teaches Nursing VI, Pathophysiology, and Pharmacology.
Two of Bussell's nursing students, Sally Fistler and Mazie Contreras, also paid tribute to their beloved professor. Fistler shared that Bussell always prays and has devotionals with her students.
Contreras addressed Bussell directly, thanking her for teaching them about holistic care for patients and providing that same care to her students. "From the homemade snacks and treats, exemplar stories full of laughter, to lecture activities that engage with all learning styles, your classroom is filled with enthusiasm for the subject," she said. "Thank you so much for the care that you poured into our educational journeys and future success."
The Educator of the Year award is chosen jointly by the Faculty Development, Research, and Honors Committee and PUC students.
Search
Keywords
Archive
PUC in Outside News
Campus Updates