Homecoming: PUC Alumni Gather Together to Reconnect, Reminisce, and Reflect
By Laura Gang on April 27, 2023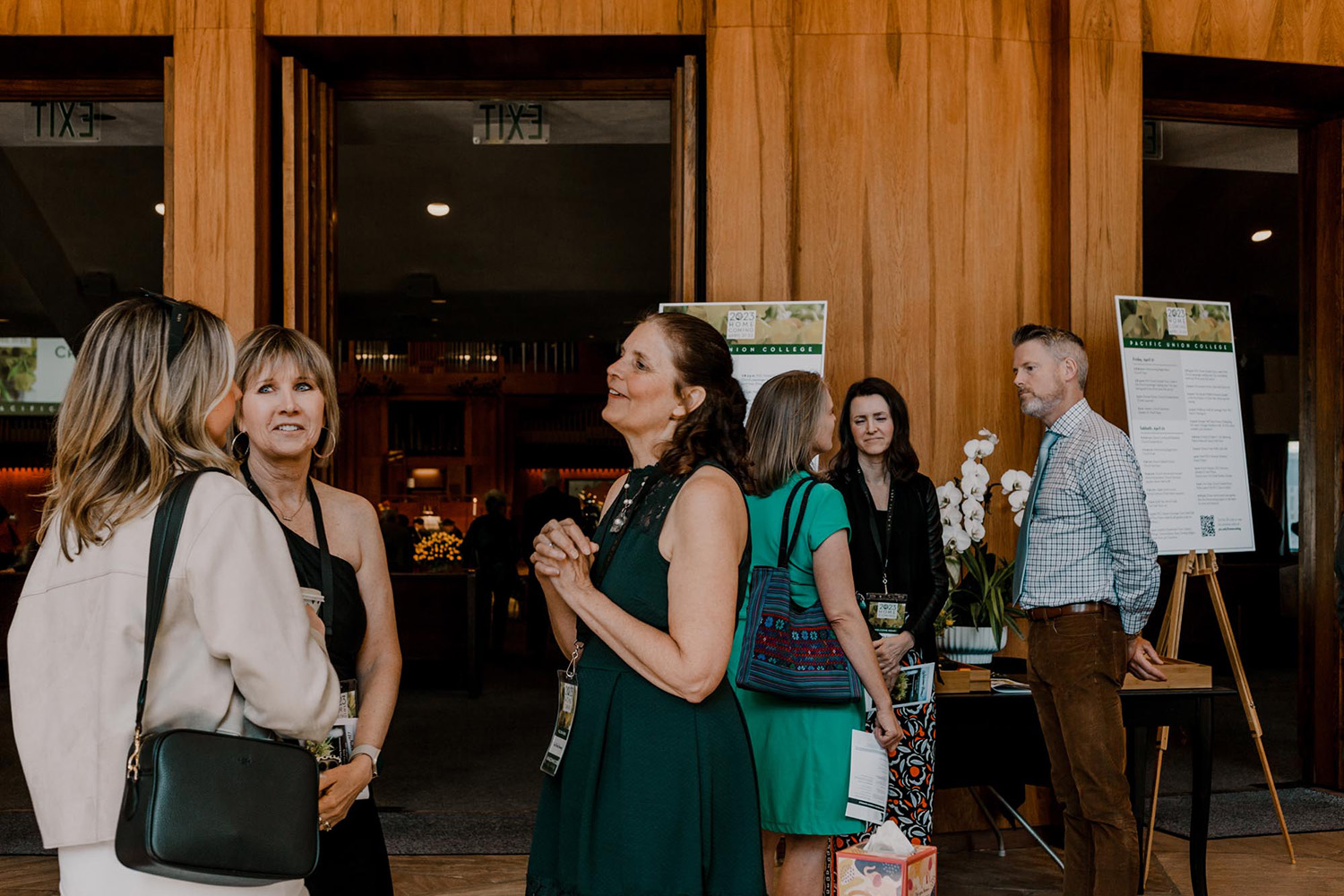 Pacific Union College welcomed alumni back to the mountain for a beautiful Homecoming Weekend on April 21-22.
Vice President for Alumni and Advancement Kellie Lind said it was wonderful to be together again. Now that people are traveling more, it made for a much better reunion this year.
"It was fun for the alumni to interact and meet future PUC alumni and our current students during the weekend," said Lind. "Our students were very involved in programming, which made the weekend even more special!"
The celebratory weekend began Friday afternoon with PUC Forest guided tours. On the drive, alumni shared memories from their days at the college while enjoying scenic woods and the view of the mountains from Inspiration Point.
After the Pioneer Dinner in the fireside room, alums gathered for vespers in the PUC Church in the evening. President Ralph Trecartin warmly greeted attendees and spoke on the evening's mission theme. "From the beginning," Trecartin said, "service has been at the center of PUC education."
Throughout the history of the college, many PUC graduates have made sacrifices to make service the mission of their life and work, Trecartin continued. And that spirit of mission hasn't left. "It's still here after 14 decades."
A PUC Praise Team led the congregation in song, and later, at the direction of Rachelle Berthelsen Davis, professor of music, everyone joined in singing Our College on the Mountain.
Professor of Biology Floyd Hayes was the featured speaker for the evening. He shared details and slides of PUC's short-term mission trips to Brazil, Kenya, and Fiji. Hayes describes these trips as "holistic"—offering many different activities. Students, faculty, and other volunteers have served others by having medical clinics, VBS meetings for children, and donating books and computers.
On Sabbath morning, Vice President for Student Life Ryan Smith hosted a discussion panel of PUC seniors about how they've committed their lives to service. Beven de los Reyes shared his journey of becoming a leader of dorm worship. Emily (Fig) Figueroa discussed how the PUC Food Pantry meets the local community's needs. Ethan Foliente and Alondra Zepeda related their experience of helping others by being missionaries abroad and at home.
At the church service, Trecartin spoke with great admiration for the college's history and expressed optimism about its future. "We will thrive," he said, "if we remember and carry our motto, 'They shall be all taught of God.'"
Vice President for Alumni and Advancement Kellie Lind paid tribute to this year's Honored Alumni by sharing biographies of their extraordinary lives of mission and service. This year's honorees included Dr. Frances Guiterrez, class of '60, for her work as a physician in Montebello; Denver Drieberg, class of '77, for his service as an educator, police academy trainer, and military liaison officer; Elle Wheeler, class of '79, who has served her lifelong local PUC community in ministry and music; Pastor Walt Groff, class of '83, and his wife LaBrenda (Klein) Groff, who attended in '82-'83, for their pastoral ministry and church leadership.
For the In Memorium part of the service, Sylvia Rasi Gregorutti, professor of world languages, read over 70 names of alumni who are now at rest. Vice President for Academic Administration Milbert Mariano and Ken Miller, both from the class of '91, led out in the annual Alumni Roll Call.
In his Sabbath message, New Every Morning, Pastor Groff talked about how God's mercies in the present affect our future and give us perspective to see His plan and provision in the past. "Understanding that his mercies were new this morning, and given to you for your now, is one of the coolest things to know in scripture," he said. "Jesus meets us every day, as we are, in this moment."
After lunch, alumni had a full schedule of events and activities to choose from, including academic department tours, nature walks, and an open house celebrating 100 years of Grainger Hall. A poignant afternoon program focused on the lives and experiences of several Ukrainian students who've been able to find refuge in the United States and study at PUC, thanks to generous gifts of donors through Mission: Ukraine.
Sabbath vespers featured music from the Cheeks family, all graduates of PUC. The Cheek Brothers Quintet and Ted Cheek and Harry Wang, both class of '71, played a duet for cello and piano. Karl Wilcox, director of the Utt Center and professor of history, gave a message titled "Heaven, Homeland and Howell Mountain."
Many alumni attended individual class parties held at different locations on and off campus in the evening. This year, graduates from the classes of '52-'54, '62-'64, '72-'74,'82-'84, '92-'94, '97-'99, '02-'04, and '12-'14 were honored.
Search
Keywords
Archive
PUC in Outside News
Campus Updates