PUC Releases Vision for the Future
By Staff Writer on June 4, 2021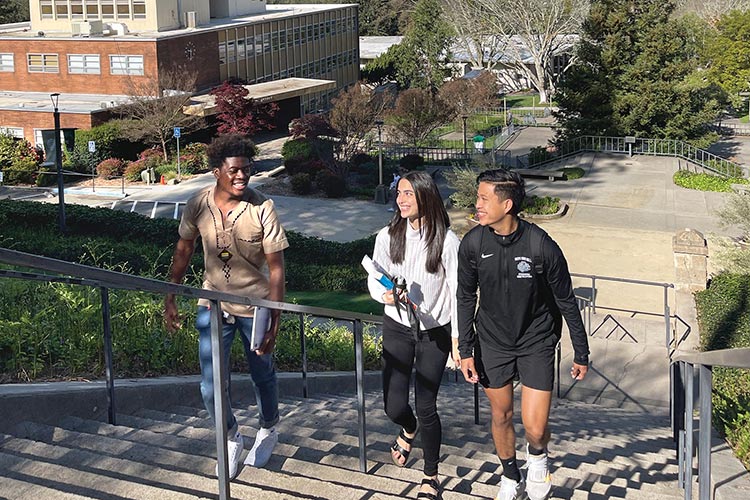 Pacific Union College (PUC) has released a new Vision for the Future that details the college's extensive plans for the years to come. This vision will expand the college's reach, make higher education accessible to a wider range of students, and ensure PUC's future as a leader in the Christian college marketplace.
"It is critical that we look to the future with both optimism and realism," said Gene Edelbach, PUC's Vice President for Enrollment, Marketing, and Communication. "Higher education is in a state of dramatic decline, and unfortunately that includes Seventh-day Adventist Christian education. Instead of following an old model of operation that will continue to show us diminishing results, we are choosing reinvention. We will expand, adapt, and innovate to reach more students, including those who require a less traditional path, while remaining true to our commitment to Christianity, Adventism, and the quality of our PUC education."
The focus of PUC's Vision for the Future includes four main areas: academic offerings, the Angwin campus, education centers, and online offerings.
Academic Offerings
To meet the needs of today's college students, PUC is building on the strengths of its rich academic history to innovate Liberal Arts and shape a more career-focused education. A shift is being made within the school's academic offerings to better meet the current needs of students who are seeking efficient paths to the job market and career success.
"We are blessed to be building on such a solid foundation, with our history of excellence," said Milbert Mariano, PUC's Vice President for Academic Administration and Academic Dean. "We want to assure success for all of our students, and it's a natural shift for us to increase the emphasis on developing career paths for students."
Focused areas of study will allow for improved quality of academics, as well as increased opportunities. These focused areas of study will include:
Nursing & Health Sciences

Business

Spiritual, Global, & Community Service

Visual Arts & Communication

Science & Technology

Behavioral Sciences

Angwin Campus
While the school is looking to online programs and education centers to increase the school's footprint and to improve financial viability, PUC's heart remains atop Howell Mountain in Angwin. Nurturing that heart is vital to maintaining its status as an established and sustainable campus.
The physical campus will continue to be the center of spiritual, social, and support activities for PUC, so each activity and service is being evaluated. Students who value the on-campus experience will find a more enriching and more supportive environment. The cultural, spiritual, and learning center of PUC will be shared throughout the off campus programs as well, so the Angwin campus must be strong and inspirational.
The campus must also be financially viable. Since the early 1900s, the population of PUC's campus has included a range from 20 students to 2,200 students. Research shows that a stable campus of around 1,200 students is the most viable avenue for moving forward. This takes into consideration the limitations the school faces with location and facilities.
Education Centers
If the Angwin campus is the heart and soul of Pacific Union College, education centers will be the arms and the legs that put the school in motion within communities.
More than half of the students in the United States who receive higher education today are non-traditional students. These students have families, jobs, or other commitments in life that make relocation and full-time education impossible. PUC wants to ensure that these students are able to access the same quality education and spiritual influence that the traditional student is able to access.
Earning a college degree for a specific career, and experiencing beneficial internships as part of the process, has also become a driving force for education. Positioning education centers in local communities and establishing partnerships with local businesses, healthcare facilities, and other appropriate training centers creates a more effective outlet for networking.
Online Campus
Online learning is not a new concept within higher education and has seen exponential growth over the last several years. This is an operational area considered standard by most thriving institutions, with approximately 30% of all higher education students in the US taking at least one online course, and around 20% completing most of their education online.
PUC will retain the Angwin campus as its core and base of operations, but the emphasized areas of focus and support services of the Angwin campus can be exported to many more students, especially those who are considered non-traditional, by making these offerings available online.
Because some course and support resources are already in place, the college can soon begin offering programs that are fully developed, have been given appropriate approval, and have proven popular with large market potential. They will continue to make further offerings available as course and support resources are ready.
Timeline
Work has already begun in the realignment of academic offerings, as well as modifications to PUC's Angwin campus and they will continue steadily and thoughtfully over the next few years.
The education centers are an innovative new plan that will take time to implement. Valuable community and organizational partnerships are already in development, and a limited implementation will begin in the 2021/22 school year. PUC is also prepared to begin online programs in the 2021/22 school year with continued growth over the next several years.
"We recognize we have set lofty goals for ourselves," said Brandon Parker, PUC's Vice President for Financial Administration. "We must continuously be looking for better opportunities for our students, so we are looking at major expansion and we plan to put this Vision into action quickly with minimal financial input from our operational budget."
For full details on PUC's Vision for the Future, visit puc.edu/vision.
Search
Keywords
Archive
PUC in Outside News
Campus Updates