Leaving the Driver's Seat: Music Grad Shares on Hearing His Own Compositions
By Becky St. Clair on December 9, 2019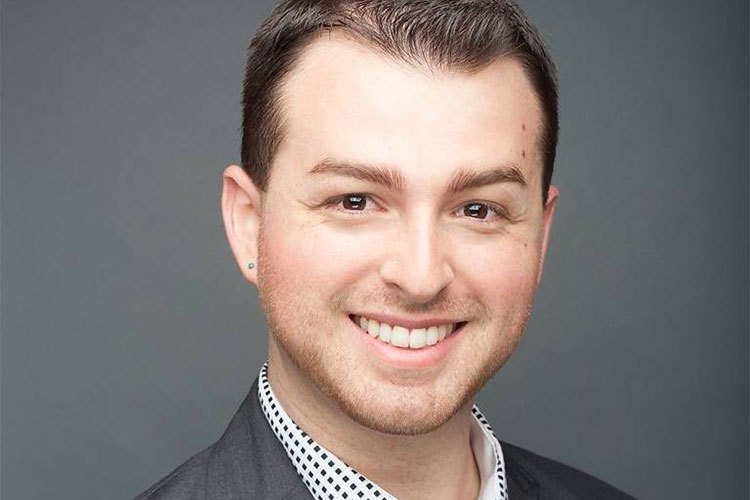 Brennan Stokes ('13) started piano lessons when he was in Kindergarten. He was following in his parent's footsteps; they themselves were in their church choir, his dad played trumpet through high school and college, and his mom plays piano.
"Music has just always been around me, and piano was a match right from the start," Stokes says. "I just took it and ran with it."
When he arrived at Pacific Union College, Stokes enrolled as a chemistry major, but changed to music with an emphasis in piano performance in his sophomore year. He took lessons, theory, and history, but when he got to the required composition class, he hesitated.
"For as long as I can remember I've been on one side of the page," he says. "I always knew I'd learn music, research it, and analyze it, but I'd never considered creating it myself."
Despite his misgivings, it didn't take Stokes long to recognize the magic in the composition process. He quickly fell in love with creating music, and continued to study the subject beyond the required course.
"I loved performing, but this idea of creating new music was even more exciting to me," he recalls. "There are far superior pianists to me out there, and I quickly recognized that composing and conducting would be a strong wheelhouse for me, especially with my performance background."
In 2013, Stokes graduated from Pacific Union College with a degree in piano performance. He continued his study of composition at the San Francisco Conservatory of Music four years later.
What stands out in his memory is November 2017: The first time he heard one of his pieces performed. When it was ready, Stokes rounded up performers, rehearsed the piece, and prepared for the premiere in the Composition Department recital.
"I definitely had some reservations, even walking into the performance that night," he admits. Many of his peers had backgrounds in composition from well-known schools like Prague Conservatory, Trinity Conservatoire of Music and Dance in London, Boston Conservatory, and Eastman School of Music, and he felt intimidated.
"I was terrified," he adds. "I'm so used to being in the driver's seat; if I'm performing and something goes wrong I can fix it or find a way out. But to be the composer sitting in the audience watching four other people performing my music was a whole different ball game."
Stokes had composed two pieces for mezzo-soprano, violin, cello, and piano. Everything else he'd written was for solo piano and he had performed it himself. Writing parts for other instruments was a large learning curve he embraced and feared simultaneously. The process revealed what he didn't know about various instruments, including piano, and it taught him that how performing musicians interpret music is part of the process, too.
As he sat in the Caroline Hume Concert Hall at SFCM that autumn evening, Stokes was thrilled.
"I listened to my music come to life for the first time," he says. He looked around at the audience while they listened, trying to gauge reactions. While things looked good, it wasn't until after the concert when many people came up to Stokes and told him they thought it was "amazing" and "beautiful" that he really began to believe it.
"It was a moment when all of my fears of not being good enough vanished," he says. "That night was confirmation that I was doing what I should be. It was magical."
To be positively received by an audience was wonderful, but Stokes admits that the creme de la creme was his music being positively received by the performers. The pianist who played that night told Stokes that she enjoyed playing his music, and the others agreed.
"That was even better than the audience liking my work," he says. "Having legit musicians vouch for my music was something beyond amazing."
In May 2019, Stokes graduated from the SFCM with a Master's of Music in composition. Today he teaches piano at the Amabile School of Music in the Sunset District of San Francisco, training the next generation of performers and composers.
"I enjoy what I do," Stokes says confidently. "I consider myself very lucky to work with young musicians. It's a wonderful experience to be able to work in my field, doing something that matters."
Read Brennan's full interview on the PUC blog.
For information about the composition emphasis in the department of music at PUC, visit puc.edu/music, or email music@puc.edu. Schedule a visit to see the campus for yourself at puc.edu/visit.
Search
Keywords
Archive
PUC in Outside News
Campus Updates