Rebuilding Their Futures: Alumna & Faculty Win $30K Grant for Refugee Work
By Becky St. Clair on May 17, 2018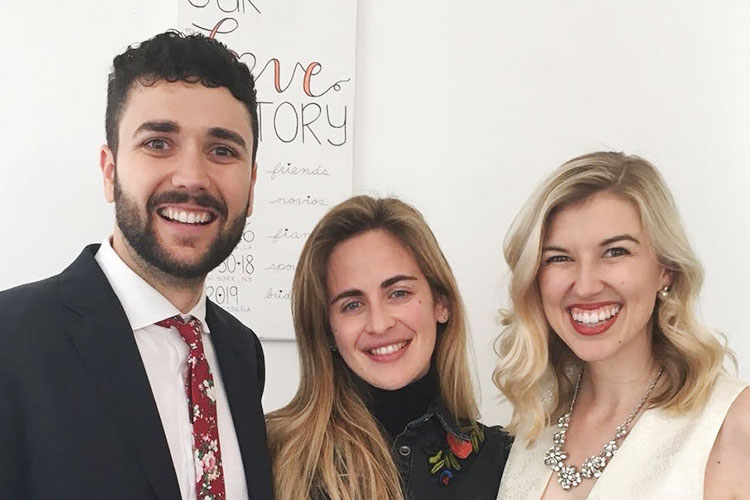 During the summer of 2017, Cristian Pancorbo, assistant professor of Spanish at Pacific Union College, coordinated a trip to Lebanon with students from PUC, La Sierra University, and Loma Linda University. Hosted by Middle East University (MEU), the group worked with the Syrian refugee population in Beirut for a month.
In addition to working alongside the students, Pancorbo was also conducting research for a project he was working on with his now-wife, Shanna Crumley, an intercultural communication and Spanish alumna of PUC currently finishing her master's degree at Columbia University (New York). In Lebanon, Pancorbo interviewed as many refugees, teachers, and non-governmental organization (NGO) employees as he could, asking about the needs of refugees there.
"My passion is working with underrepresented communities," says Pancorbo. "When you look at the big picture you see large numbers and a lot of need, but you don't really know what's happening on the ground with refugees. Throwing money onto the refugee canvas didn't help; they need access to education, so they can get access to jobs."
His research fed into A4Ed, a social enterprise founded by Crumley, Pancorbo, and a third co-founder, Gemma Torras Vives, a classmate of Crumley's at Columbia University. A4Ed is a platform based on Blockchain technology that would give refugees a secure way to record their education and employment history.
Blockchain is the technology infrastructure behind cryptocurrencies such as Bitcoin, a popular method of transferring digital currency securely without the use of a central bank.
"Blockchain is a new buzzword, so many people still don't quite understand what it is," Pancorbo explains. "It's a decentralized secure network, which in our case is not used for fund transfers, but simply as a secure ledger."
MEU manages a small school for refugee children in their area, but because resources are limited, there are only a small number of children able to attend. While in Lebanon, Pancorbo was invited to celebrate Ramadan with one of these families. The youngest child hadn't spoken more than a few words since seeing her uncle get shot in the head three years prior. The family, not wanting to leave their home country, lived secretly in the sewers for a year before realizing they had to leave, and had ended up in Beirut.
"These kids hadn't had any kind of formal schooling in four years," Pancorbo explains. "The average length of time refugees spend away from their home country is 20 years. Many never return. And if they become refugees as children, they miss out on crucial basic education such as reading and writing."
Many refugee parents are well-educated and had good jobs prior to leaving their home country, but because they were forced to leave quickly and unexpectedly, many do not have official papers verifying their education, skills, or experience. Their children are undocumented because they have no ID, no passports, and nothing confirming they were enrolled in school for any amount of time.
The only options available to most refugees are to risk their lives to return home and hope they can procure the documents and return, or bribe government officials to provide either false or legitimate papers. Neither of these options are ideal, so A4ED is working to provide a third option.
"I talked to a guy in Jordan who graduated with a degree in engineering, but because he disagreed with the political powers when the war started, he became an enemy of the state," recalls Crumley. "He has been wiped from the books, his education and experience are no longer recognized or acknowledged, and he has no identity."
During their research in Jordan, Greece, and Lebanon, A4ED co-founders talked to many people in similar situations. Refugees in those countries often attend classes they've already taken and received a degree for, just so they can get the official recognition again and get their career restarted. A4ED is geared toward helping these people pick up the pieces of their lives and have the successful futures they want, need, and deserve.
"The pilot version of our program will start with the informal pieces such as English, computer, and job skills workshops offered by the UN," Crumley explains. "They look forward to using our program for skills matching—pairing employers looking for individuals with particular skills and potential employees who have those skills."
Though online platforms such as LinkedIn exist for this purpose, unlike A4ED, information shared there is not verifiable through the platform.
"Refugees also struggle in a huge way with trust," Pancorbo adds. "They believe nothing they are told by governments, news outlets, or even the UN. What they believe is what they hear from friends over WhatsApp."
This is why a decentralized secure network, such as that provided by Blockchain technology, is appealing to people in these situations.
"Sending and receiving money on internet is iffy," admits Pancorbo. "The first issue to solve is being able to trust the other person without having VISA or a bank in the middle. This is what Blockchain does."
A4ED uses this technology to provide a place for refugees to record and confirm their education and experience, which are then confirmed by the institutions. Once confirmed, the ledger entry—which cannot be changed—can be shared with potential employers or school administration in lieu of certificates or diplomas.
"MIT is giving diplomas with Blockchain now," says Crumley. "No one can ever edit any entry in a Blockchain ledger, which decreases fraud and regulation."
At Columbia University, Crumley and her A4ED co-founders participated in the SIPA Dean's Public Policy Challenge Grant competition, a year-long entrepreneurship challenge consisting of several rounds and culminating in a $30,000 first place award. In April, Crumley and the team learned they'd won the challenge.
They also participated in the 2018 Global Public Policy Network competition for startups, hosted at Columbia University. Top-notch schools from around the world sent teams to compete and school deans to judge: London School of Economics and Political Science, University of Tokyo, and others. Over 30 teams competed, and A4ED was selected as the first-place winner.
"These amazing wins really validated our ideas," Crumley says. "It opened a lot of doors for mentors, investors, licensing, funding, and more."
Eventually, the A4ED team would like to see their app expanded to include healthcare for refugees, as well. They are currently working on partnerships with organizations such as the UN, UNICEF, and others who will help them integrate their Blockchain development to cover multiple aspects of life for refugees and anyone else who needs a way to record important information. In addition to education and employment, this could also include healthcare, contractual, and financial components.
"We're talking to UN agencies now and would like to pilot in Jordan soon," says Crumley. "If we can build a partnership with credible organizations such as UNICEF, it will move us forward much more quickly to making A4ED an enterprise software available to many more people much sooner."
Despite its potential for success and early recognition, A4ED has no dreams of grandeur.
"Our goal has always been to help people in need," Pancorbo says with feeling. "We don't want to make money off them, we want to pull them back onto their feet and give them purpose again. That's their dream, and we've made it ours, too."
A4ED is still in its infancy, but the team has high hopes for its future. In addition to Crumley, Pancorbo, and Torres, the team includes two technology consultants, and they hope to hire a Blockchain expert in the near future as well.
"It doesn't stop here," says Pancorbo. "We're not climbing the mountain yet, we just bought some of the gear, and now we have to train. This is just the beginning."
Search
Keywords
Archive
PUC in Outside News
Campus Updates