Academic Excellence Acknowledged: Annual Awards Colloquy Honors Faculty and Students
By Becky St. Clair on May 25, 2018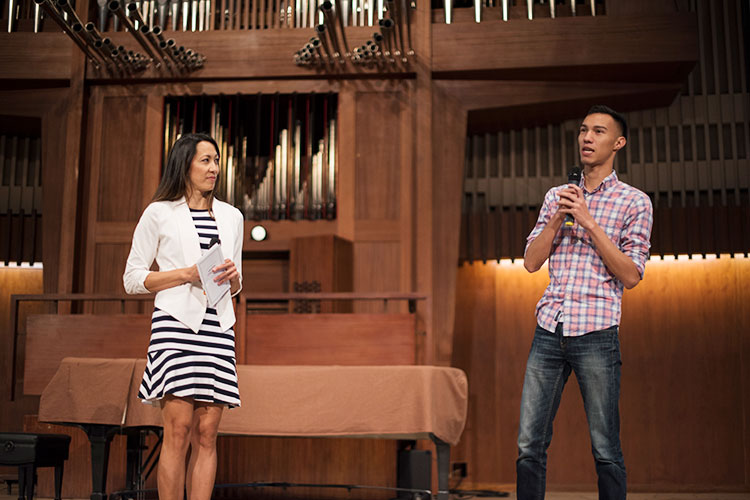 On Thursday, May 17, Tammy McGuire, professor of communication, and Asher Raboy, resident artist teaching in the department of music headed to the platform of the PUC Church, taking the steps two at a time.
"We're here to acknowledge faculty who have been working on research," McGuire announced to listeners in the pews. "Some in areas we don't understand."
There was a ripple of laughter throughout the audience as Raboy returned, "Mostly in areas we don't understand."
It was just one portion of the annual Awards Colloquy, honoring faculty and students who have accomplished great things academically during the school year.
"I told them to not be boring," admitted Nancy Lecourt, vice president for academic administration. "I think they followed my instructions."
It was obvious McGuire and Raboy were having fun ribbing their colleagues while also recognizing their accomplishments.
"You've heard of the birds and the bees, but if you take out the bees, you'll have what Floyd Hayes, professor of biology, has been studying," McGuire quipped. "There's also a dolphin in there somewhere."
Both McGuire and Raboy came across their own names in the list, McGuire for her mixed-methods research of online dating; Raboy for his composition of "The Beatitudes," a cantata which made its world premiere in April.
"Listening to your 'Beatitudes' was easily the best 40 minutes of this quarter," McGuire told Raboy.
Following the faculty research were student-faculty collaboration research highlights. Rolan Flourney, senior health communication major, reported on a project he co-led on patient healthcare rights comprehension.
"This project allowed me to spend a lot of time reading about and studying a topic I'm passionate about," Flourney said. "I can go to potential employers and tell them this is how I'm spending my time—this is how I'm working to help people."
Emily Castellanos, biology major, traveled to Paraguay where she and her professor made vocal recordings of a specific bird, which they then compared to the specimen of a different bird they acquired on loan from University of Michigan.
Colloquy attendees were also shown "Genesis," a short film by visual art senior Julian Ybarra. In April, his film won the Jury Selection Award at SONscreen, an annual film festival created and sponsored by the North American Division of Seventh-day Adventists.
Departmental commendations were printed in a program for the event, listing four-year students with a record of scholarly excellence and outstanding academic achievement. These students have also demonstrated leadership, a commitment to service, and dedication to community involvement.
Jennifer Tyner, vice president for student life, enrollment, and marketing, and J.R. Rogers, associate vice president for student life, presented student leadership honorees, including Flournoy, Student Senator of the Year.
"These students are motivated not only academically," said Tyner, "but they also work hard to make PUC an amazing place."
Tyner and Rogers also recognized the Student Association officers, Residence Hall Recognition Award winners, student employees of the year from each department, and Campus Ministries coordinators.
"Our student athletes work hard not just on the track or on the court," said Rogers, "but are also dedicated in the classrooms and labs."
Ten student athletes with a junior or senior standing were honored for maintaining a GPA of 3.0 or above, and four were named Distinguished Scholar Athletes, with GPAs at 3.5 or above. Presidential Scholar Athlete of the Year is Stefaan Dick, a cross country team member with the highest GPA of all athletes in their junior or senior years.
Lecourt also recognized newly named professors emeriti: Roy Benton (mathematics), Cherie Goulard (nursing), and Rodney Hardcastle (business administration). She shared that Benton, who has been teaching at PUC since 2004, is a brilliant classical guitarist and improvisational jazz pianist, and is retiring to eastern Washington State.
"Dr. Goulard's passion for her students and for the highest standards of patient care were reflected in her teaching and in her commitment to students since her teaching career began in 1995," Lecourt said. "We appreciate Cherie and all she has done to support the college."
Hardcastle taught accounting and finance at PUC for 28 years, and chaired the department with "a warm and caring approach that was much needed," said Lecourt. Hardcastle invited his Personal Money Management students to come back to him over the years for financial advice. Many have done so.
Lecourt also read the name of each student graduating with a GPA of at least 3.9, with special mention of the three who earned a 4.0, who all also happen to be pre-med students: Riley Dickson, management of medical professionals major, Emily Hong, biology major, and Emmanuel Omosor, Spanish and chemistry major.
"Creator and Redeemer," Lecourt said in prayer, "we thank you again this morning for our life together on Howell Mountain, and for all the blessings of this learning community. Amen."
Search
Keywords
Archive
PUC in Outside News
Campus Updates