PUC Resumes Classes After Wildfire Concerns
By Staff Writer on October 17, 2017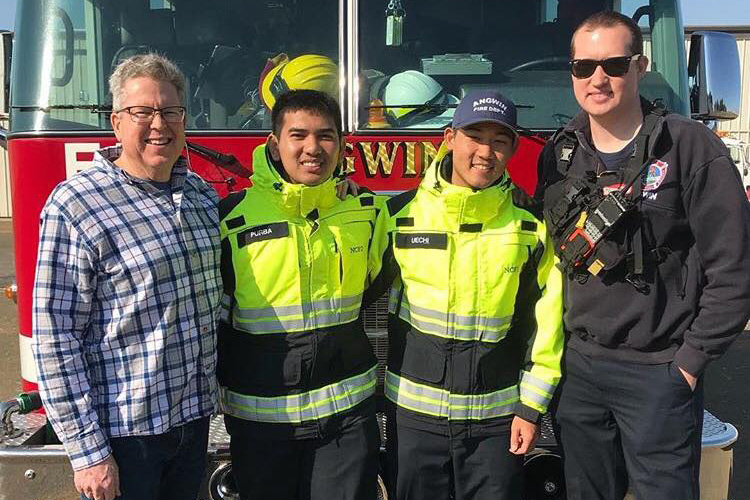 Today students return to the Pacific Union College campus after a week-long hiatus. In an act of caution, last Tuesday, October 10, PUC canceled classes, closed non-essential offices, and encouraged students to return home to their families while first responders and emergency personnel from across the country worked on containing the wildfires spanning Napa and Sonoma counties and throughout Northern California.
"Even with the continued assurance of Angwin's safety from local fire professionals, it gave PUC's senior leadership team extra peace of mind knowing the majority of our students were far from the situation," said Jennifer Tyner, vice president of student life, enrollment, and marketing. "The outpouring of love and support from the community to our remaining students, faculty, and staff was uplifting during this trying time for our campus."
Among the responders working tirelessly to contain the wildfires were several PUC students who volunteer with the local Angwin Volunteer Fire Department, along with many college staff and faculty members, including J.R. Rogers, director of recruitment and fire chief for the Angwin Volunteer Fire Department. He says, "Over 11,000 firefighters and first responders have been working around the clock and the containment of the fires continue to increase, which is extremely positive. Angwin continues to remain safe from harm and it will be really great to see the students back on campus. I can't express how proud I am of the Angwin Volunteer Fire Department and Napa County Fire crews. Our team is made of Angwin community members, faculty, staff, and students and the dedication they've shown during this extremely difficult time has been inspiring to me."
For the last week, the Virgil O. Parrett Field, which serves as the home of the college's aviation program in addition to being a community airport, has also been the staging area for CAL FIRE's helicopters and other aircraft assisting with fire relief efforts. The aircraft have helped with water dropping, supply runs, mapping fire hot spots, and coordinating with air tankers dropping fire retardant. PUC has provided housing for many of the pilots to help with these efforts.
Classes at the college will officially resume tomorrow, Wednesday, October 18, and professors are already hard at work ensuring the time out of the classroom will not affect students' academic progress. "We look forward to welcoming students back to classes. Departments and faculty will work with students to make up for lost time, with special help for the few students whose homes were destroyed by fire," said Dr. Nancy Lecourt, vice president for academic administration and academic dean.
Due to the concern about the air quality from the wildfires, this morning the National Weather Service issued a smoke advisory for the North and East Bay Area. While containment efforts continue, the college advises students, faculty, and staff be prepared for drift smoke and ash in the area as wind patterns shift. As a precaution, students are asked to bring their N95 or N100 masks with them back to campus due to a shortage of supply in the local area. Students with respiratory challenges should make sure they have their inhalers with them at all times. Health Services, the college's student clinic, is also available to students worried about the impact of the air quality on their health.
The college's residence hall staff is eager to have students return to campus. "Things have felt so stressful and uncertain this past week, I'm really glad to have the students coming back today," says Gena Philpott, interim dean of women. "We are excited to welcome them back to their home away from home and want to be as supportive as we can. We have resident assistants and desk staff looking forward to helping restore the hub of normalcy and community in our residence halls. We have been blessed, and now it's our turn to pay it forward."
Michael Jefferson, director of the counseling center at PUC, offers students several recommendations as they return to campus. "Any disruption in everyday life is stressful and getting back to a routine as soon as possible is essential to our mental and physical health. Take care of yourself by enjoying activities with friends, doing a random act of kindness for someone else, and limiting your exposure to negative news." He encourages students who have been stressed by the wildfires to seek the assistance of the counseling center. "If you're trying to handle a stressful situation, the counseling center is here to help. Give us a call to schedule an appointment and learn some useful coping strategies. Services are free and confidential."
In an email to the PUC campus family last week, Dr. Bob Cushman, the college's president, offered his thanks to the thousands of emergency personnel who have helped with fire relief efforts. "We lift up in prayer and offer our deepest gratitude to all of the emergency crews working to protect us and the surrounding communities; CAL FIRE, the Napa Sheriff's Office, our own Angwin Volunteer Fire Department, and the thousands of other rescue and relief workers. The coming days, weeks, and months will be challenging as our valley communities begin to rebuild, but together, with God's help, we will." Dr. Cushman has also been visiting the CAL FIRE operations at the airport each day to give his thanks and appreciation in person.
As recovery efforts have progressed, the college is reaching out to faculty, staff, and students who have suffered significant losses due to the fires. There is already confirmation of one student losing their Santa Rosa home. The college offers support during this time of grieving and a number of fundraising efforts which will be announced soon to help both students and community members. Follow the PUC Facebook page for updates.
Search
Keywords
Archive
PUC in Outside News
Campus Updates