Dr. Cushman Shares Vision for PUC at Opening Convocation
By Larissa Church on October 3, 2017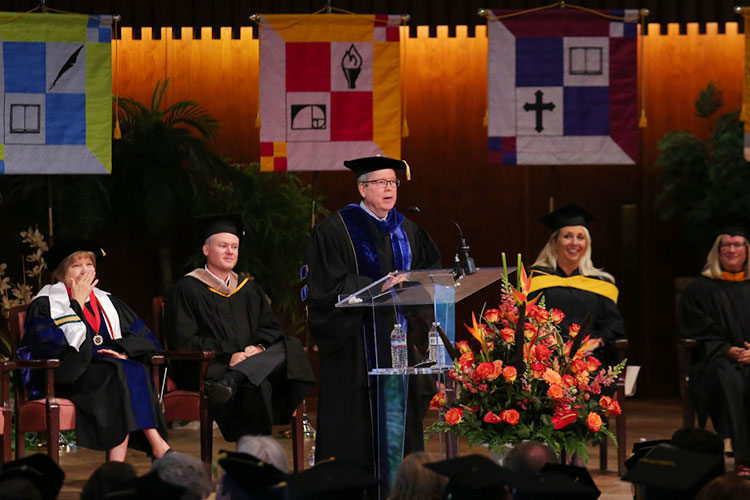 The Pacific Union College Church sanctuary was filled with students, staff, and faculty for the first Colloquy service of the year, Thursday, September 28. The campus and community family gathered together to hear the inaugural address from the college's new president, Dr. Bob Cushman.
Megan Weems, the Student Association (SA) president, began the service by introducing this year's SA theme, "Family." It is their goal that every PUC student be intentional about building a family atmosphere. "We want to make sure it's more than just a word on a t-shirt, or a word on a video … we want to make sure everyone feels it in their heart of hearts. We want to make sure everyone feels they belong and are loved. At PUC, we're all here together," she encouraged.
A hymn of praise followed, then a reading of Matthew 22:36-40. "Pie Jesus" by Andrew Lloyd Webber was performed by I Cantori, conducted by Jenelle Westerbeck Anderson, assistant professor of music, featuring solos from Whitney Weems and Christina Allen.
Dr. Aimee Wyrick, chair of the department of biology, introduced Dr. Cushman, and revealed he was her professor at Loma Linda University. She shared fun anecdotes from studies they conducted together; most notably a shoreline vegetation study at Mono Lake during which a bear visited their campsite. She ended her introduction by saying, "I hope you will allow Dr. Cushman to teach you as well as he taught me."
Upon taking the podium, Dr. Cushman individually welcomed groups of people to campus for the first week of classes—new students, returning students (with special recognition to those who spent a year abroad through ACA or as a student missionary), graduating seniors, and faculty and staff. "We're excited about the school year that lies ahead," he said. He also introduced the college's senior administration team, saying, "We are thrilled to partner with you on this journey."
Dr. Cushman's address, titled, "Siblings," began with striking images from the recent protests in Charlottesville, Va., which left one woman dead and 19 injured. "We have come to a time in our country where divisiveness is the norm, instead of the exception," he said, reporting there are over 900 active hate groups in America, and more than three in four Americans view the country as a divided nation. "That doesn't sound like family to me," he said, asking the congregation, "How do we as a Seventh-day Adventist Christian college respond to the divisiveness that is threatening our sense of community and even our country?"
Dr. Cushman encouraged each student to ponder why they chose to attend PUC. "I would hope it's because you expect something different from us, that you expect more from us. In return, we expect more from you. We expect that you will help us create a different tomorrow than what we are experiencing today."
Referencing Galatians 5:22, Dr. Cushman contrasted the Fruits of the Spirit—love, joy, peace, forbearance, kindness, goodness, faithfulness—with words often found on resumes; build, create, produce, discover, achieve. It is a moral logic rather than an economical one. "My hope is that as a Seventh-day Adventist Christian college, we exhibit these virtues and we help you develop and nurture them as you go through this journey as well."
Expanding on the SA theme of "Family," Dr Cushman quoted Galatians 3:26-29, reminding the congregation we are all children of God through faith in Jesus, and through him, we are all siblings. Pointing out how destructive labeling each other can be, rather than getting to know one another, Dr. Cushman shared he hopes PUC can become a place without any labels. "I wish for us this year that PUC become a place for family with no labels … where we can get to know each other at the core of who are are."
Dr. Cushman asked the congregation what something like this would look like, calling back to the protest images he shared at the beginning of his address. "I would like to suggest here at Pacific Union College that hate has no home here, regardless of race, color, creed, or language. There is no place for hate in this community." Continuing on, he said, "I have a dream for us, that this will be a place where we are committed to a different tomorrow. A tomorrow where 'Christian' is also a verb, not just a noun. A tomorrow where hate has no home, a tomorrow where differences are valued and respected, a tomorrow where the marginalized are included in the body of Christ."
In closing, Dr. Cushman reiterated the service's Scripture from Matthew 22:36-40, saying, "My dream for PUC this year is that we be a place where when people come onto our campus or see us in the community that we are a people who live by the two greatest commandments: that we are people who love the Lord with all our hearts, soul, and mind, and our neighbor as ourselves."
The service ended with an energetic performance by the Chorale of "Cornerstone" composed by Shawn L. Kirchner, conducted by Whitney Weems, with solos from Megan Weems and Alvin Laberinto, after which the historic Healdsburg Bell was rung, as is tradition for the first Colloquy service of the year. Following the benediction, students, faculty, and staff filed out of the sanctuary, ready for another exciting year at Pacific Union College filled with God's richest blessings.
Search
Keywords
Archive
PUC in Outside News
Campus Updates