Church Luminary Dr. George R. Knight Speaks for Annual Adventist Heritage Colloquy
By Larissa Church on October 31, 2017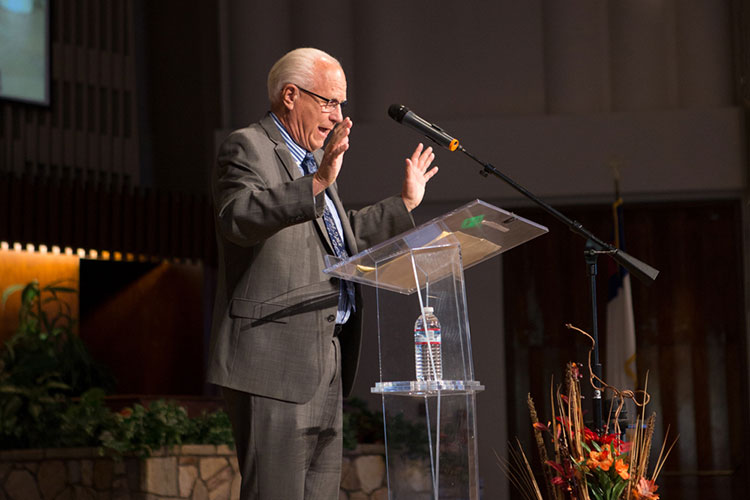 Dr. George R. Knight spoke for Pacific Union College's annual Adventist Heritage Colloquy on Thursday, October 26, in remembrance and celebration of the historic roots the Seventh-day Adventist Church has with the Protestant Reformation. Knight is a leading Seventh-day Adventist historian, author, and educator, and considered to be one of the most influential voices within the denomination for the past three decades. He is also an alumnus of PUC, a graduate of the class of 1965, and professor emeritus of church history at Andrews University.
Dr. Nancy Lecourt, academic dean and vice president for academic administration, took to the podium to welcome students back to campus after a week-long hiatus due to the wildfires in Napa County, saying, "It's great to see everyone back on campus." She then brought up J.R. Rogers, director of recruitment and fire chief for the Angwin Volunteer Fire Department, along with 16 volunteer firefighters, most of whom are PUC students, faculty, and staff. The audience clapped and cheered their appreciation in recognition of the volunteers' tireless efforts and heroics during the recent fires. Rogers reported how the department assisted with fighting both the Atlas Peak and the Tubbs fires, during which many AVFD volunteers worked for three straight days. Jonathan Bradley, associate registrar, shared how he helped supply water to fire trucks at the Tubbs fire working to prevent the fire from spreading to Calistoga. For 14 hours Bradley hauled approximately 50,000 gallons of water between the supply station and front line.
Directed by Jenelle Westerbeck Anderson, assistant professor of music, the chorale sang an energetic rendition of an old Advent hymn titled "O, When Shall I See Jesus?" followed by the introduction of the speaker by Dr. Paul McGraw, professor of history. McGraw shared some of his experiences taking classes from Knight at the Seventh-day Adventist Theological Seminary at Andrews University, saying of Knight, "He is not only a scholar and a teacher but a man of deep faith."
Knight began his presentation by giving his appreciation to the AVFD volunteers, sharing how he spent the first week of school during his senior year at PUC fighting a nearby fire. "It's good to be home," he said. "I just love this campus. It's a beautiful place full of beautiful people, and it's nice to be among so much intellectual power."
Fifty-five years ago, Knight shared he wrote his first term paper on Martin Luther while he was a student at PUC. In the year of the 500th anniversary of the Protestant Reformation, Knight took the occasion to reflect on Luther's continued relevance today. Just as Luther stood up against the corruption of the Catholic Church in his day, Knight believes it is a reminder similar abuses in 2017 demand standing up to as well.
In a pre-internet and pre-Facebook world, Luther posted his 95 theses on the "neighborhood bulletin board," the church door in Wittenberg, Germany, as an invitation to theological discussion regarding indulgences and the issue of salvation. Knight posited that Luther's ideas weren't revolutionary; everyone was upset about indulgences and how much money the church was making off of them. Luther only differed from the authorities on one point—the leaders of the day read the Bible through the eyes of tradition, while Luther turned that methodology on its head and evaluated tradition and philosophy in the light of the Bible, and believed in sola scriptura over any other authorities. Knight said, "If you look throughout history, the most significant battles, both in Adventism and in other places, have been over authority. What is the baseline for the church? Is it Scripture? Or something else?"
Knight stressed Luther didn't intend to start a revolution. He started doing something dangerous—reading the Bible for himself, and discovered some of the major teachings of the Catholic Church didn't align with Scripture. As the church asked him to repeatedly defend his ideas, Luther created more documents and became "the first best seller in world history" as his works were translated into several languages, which laid the groundwork for the Reformation.
Knight reinforced the issue at the heart of the Reformation was the authority of the Bible versus the authority of the church, and that God's gift of salvation is by grace alone, not something God partially gives you or something you partially earn. Thanks to Luther, these beliefs became the cardinal tenets of Protestantism and of the Seventh-day Adventist Church. In closing, Knight said, "Martin Luther was a person of his day, but Martin Luther and his ideas, is a person for our day."
Search
Keywords
Archive
PUC in Outside News
Campus Updates