David Anthony Johnson Brings Martin Luther King Jr.'s Speeches to Life
By Emily Mathe on January 9, 2015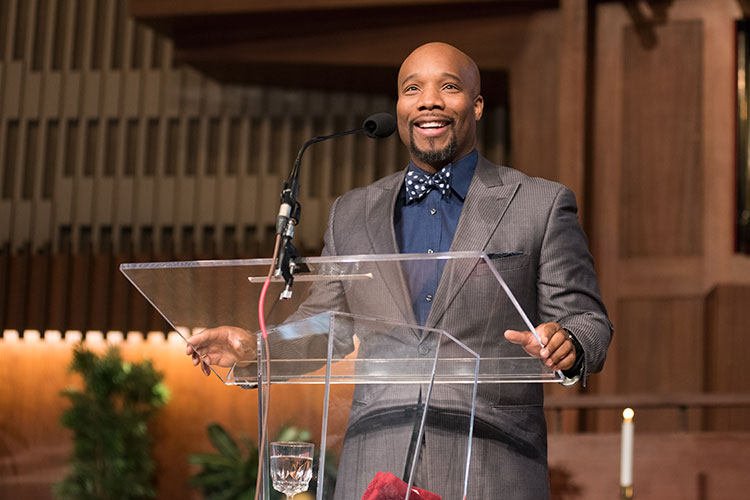 PUC's Martin Luther King Jr. Remembrance Colloquy on January 8 featured musician and orator David Anthony Johnson. His presentation was entitled "Let Freedom Ring: The Speeches of Martin Luther King Jr." Johnson intertwined narratives from his own childhood and anecdotes about King's life with performances of iconic speeches from the civil rights leader. Johnson not only recited the words of King's speeches, but emulated his tone, delivery, inflection, and rhythm, recreating a little bit of history from the platform of the PUC Church.
Johnson recounted how his great-grandmother urged him to learn King's speeches by heart; he grew up surrounded by King's voice and words through his family members and developed his own desire to learn more about the prominent civil rights activist. At the Colloquy program, Johnson orated three of King's speeches, including King's own "eulogy," which was a sermon he preached just two months before his assassination. Johnson concluded with "I've Been to the Mountain," King's last delivery, which was given the day before his life ended in Memphis, Tennessee, on April 4, 1968.
Johnson himself is not only known for his oratory, but for his musical ability as well. He began singing at the age of four, and his musical skill only continued to grow, earning him numerous awards throughout the area of his hometown, St. Louis, Missouri, and a professional musical career for over 30 years. An alumnus of Oakwood University in Alabama, Johnson has shared the stage with a slew of noteworthy figures, including Rosa Parks, Maya Angelou, Johnnie Cochran, Brian McKnight, and Julian Bond.
Johnson also established a nonprofit organization in 2008, called "5 Talents More, Inc.," which provides mentorship to troubled youth in order to help realize their potential and make good life choices. Johnson was a former juvenile probations correctional officer who recognizes the need for the youth of today to have excellent role models and mentors. His goal is to be a positive influence on this generation through using his talents.
Search
Keywords
Archive
PUC in Outside News
Campus Updates