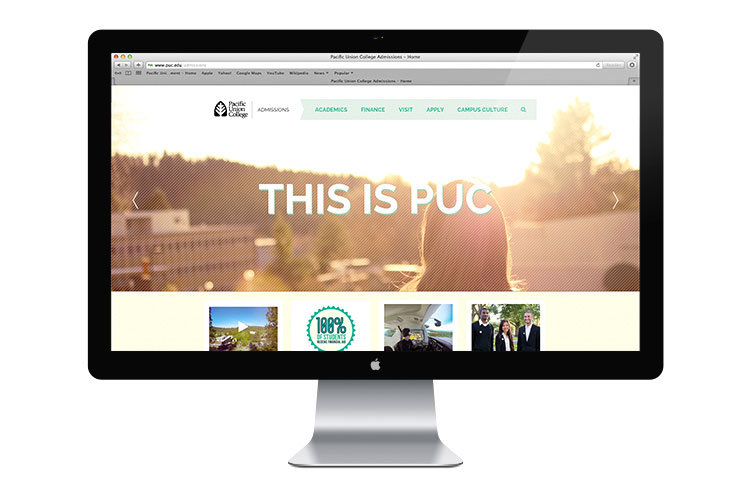 Pacific Union College's new mobile friendly admissions website, launched in February, has been recognized for achievement in both design and marketing. Most recently, the website garnered a 2014 American In-house Design Award from Graphic Design U.S.A., an organization that sponsors multiple graphic design competitions. The In-house Design Award spotlights the outstanding work by in-house designers, recognizing them both for their talent and for the challenges they face and the unique value they bring to their institutions.
The In-house Design Award competition receives more than 4,000 submissions each year from design teams that work within the institutions they serve instead of at design agencies, with a very select 15 percent recognized with a certificate of excellence. Pacific Union College received a certificate for the admissions website as well as a congratulatory letter to the college's administration. In addition, the website is eligible for publication in the In-House Design Annual, with a circulation of over 100,000 professionals.
Earlier this year, PUC's admissions website won a silver award from the 29th Annual Education Advertising Awards, sponsored by Higher Education Marketing Report. Of nearly 2,000 entries, PUC was amongst the 146 institutions granted a silver award and was one of only 31 winners in the Website Category.
"I am so happy to see the PUC team recognized for the tremendous amount of work they contributed to the new admissions website," said Jennifer Tyner, vice president of enrollment management and marketing. "The design team worked closely with PUC's enrollment staff to develop a beautiful site that truly demonstrated PUC's unique brand. It is especially impressive that the entire site was done in-house by all PUC alums."
The new Admissions site was specifically designed to accommodate the many users accessing the site from tablets and mobile phones, particularly teenagers exploring PUC as a college option. Views of the admissions site have already increased by 52% compared to the former enrollment services pages. "Everything about the admissions page is designed to drive a prospective student to hit the apply button or schedule a visit," said Tyner.
Design and higher education marketing organizations aren't the only ones praising the new admissions website. The easy-to-navigate information—along with the many videos, images, and helpful resources—has received compliments from potential students and their parents, who can find the award-winning site by clicking the "Admissions" tab on any page of the PUC website or by going directly to www.puc.edu/admissions.
Search
Keywords
Archive
PUC in Outside News
Campus Updates