Pioneers Volleyball Season Ends with Playoff Appearance and Conference Honors
By Staff Writer on November 19, 2014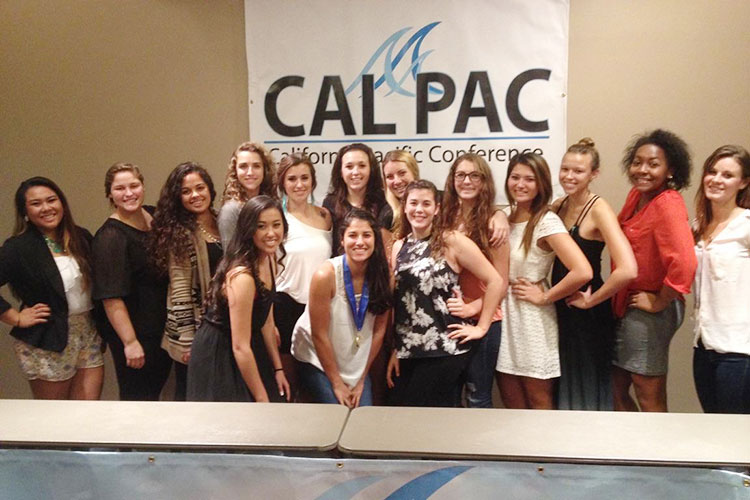 The Pacific Union College Pioneers women's volleyball team ended their season at the National Athletic Intercollegiate Association (NAIA) California Pacific Conference Volleyball Tournament in Riverside, Calif. The Lady Pioneers lost to Menlo College on October 13; Menlo went on to beat UC Merced for the Cal Pac Championship on October 15. At the Championship Awards Banquet, Pioneer players were honored with postseason honors.
PUC women's volleyball ended their season 15-12 overall and 5-6 in Cal Pac play. They entered the Championships as the three seed before falling to Menlo College in the first round.
"We are a young team, and a young team with a lot of talent," shared head coach Brittany Brown. "I am looking forward to building off the success of this program going into next year."
At the Cal Pac Championship Awards Banquet, Lady Pioneer Viridiana Gallardo, a senior, was recognized the Cal Pac Libero of the Year and named to the All Conference First Team. Gallardo led the Cal Pac in digs per set at 6.02 and tallied a total of 602 digs in the season. She was seventh in the NAIA in digs per set.
In addition to Gallardo's award, Amanda Loeffler was named Cal Pac Freshman of the Year and named to the All Conference Second Team. Loeffler finished the season leading the team in kills with 310, was second on the team with 298 digs, and had 16 service aces. Freshman Lauren Purdom was also named to the Cal Pac All Conference Second Team with 165 kills, 30 block assists, and four blocks.
"Viri, Amanda, and Lauren were key contributors to the success of this team, supported and pushed by incredible teammates," commented Brown. "Their awards bring a lot of pride and excitement to our athletics department."
Setter Athena Abary and middle Kourtney Davidson, both PUC sophomores, received honorable mention. The Pioneers will graduate two seniors, Gallardo and setter Adrkana Patricelli.
Search
Keywords
Archive
PUC in Outside News
Campus Updates