PUC's Intramural Program First on List of Top Ten Intramural Programs in US
By Lauren Armstrong on March 29, 2013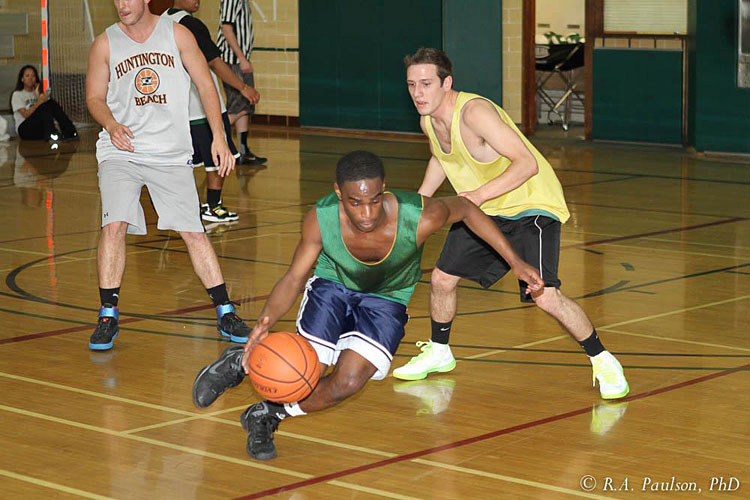 It's a Wednesdaynight—8:30 p.m.—and the gymnasium is packed. The fact that it's a weeknight doesn'tstop students and faculty alike from flooding into the Covered Wagon toparticipate. Team schedules constantly rotate, players hoping to advance after eachgame.
This isintramural rec—the program that recently reached the number one spot on CollegeProwler's list of the top ten intramural programs in the nation.
PUC's intramuralprogram gives players a place to compete in a number of different sports andleagues. Not only do current students participate in this popular program, butmany faculty, staff, and alumni are also active participants.
"The focus on whatwe do at intramurals is to give people a place where they can physicallyparticipate with their friends in an environment where they will get someexercise, they'll make some friends, [and] they'll get some stress relief to maintainbalance in their academic life," says Robert Paulson, professor of exercisescience, health, and nutrition, and the director of PUC's intramural program.
"The best partfor me is just the camaraderie with all the guys and the girls—all theteammates," says senior accounting major Daniel Monnier. "It's a lot of fun,just to be able to take our minds off studying and just do something different,relax for a bit, and play sports. That's really what I value most."
The programstarted long before Paulson arrived at PUC in 1994, and though it still faces anumber of challenges—new students who are unfamiliar with the program, academicschedules that prevent participation, and the absence of outdoor lights on theathletic field—it continues to thrive.
Involvementamong faculty and staff continues to prove an important part of the program. LaryTaylor, associate professor of business administration, has been involved withthe program for over 25 years. Taylor began teaching at PUC in 1978 and hasbeen involved in the intramural program from the start, playing football,basketball, and baseball. He has since stopped football and basketball, butstill enjoys playing baseball. "In football we had a faculty team so I wasinterfacing with faculty but we played against a lot of students that I would havenot had in class," says Taylor. "That's one of the big things, I think. I gotto know a lot of students that I wouldn't have known otherwise."
As a holisticinstitution that focuses on mind, body, and spirit, PUC aims to touch on allthree factors in any given activity, Paulson explains. "We want people to learna variety of things," he says. "It's not as heavily cognitive in value as, say,linear algebra, but when you can learn how to deal with people in a pressuredsetting, it's a good thing."
Alluding to thespirit aspect of the holistic philosophy, he says, "I'm a big fan of theChrist-like learning environment. I think it's through that kind of behaviorthat people understand and develop a relationship with Christ."
When it comes todirecting the program, Paulson makes an effort to be open minded. "My drivingforce is not to say, 'Why?' but to say, 'Why not?'" he says. "If I can't come up with a good 'why not,' then weneed to try it." For example, last year during the springtime, a student askedhim if kickball could become an intramural sport and it was only a matter of minutesbefore he agreed.
"If you thinkabout it, you get people who have a wide variety of skills, running around,hanging out with their buddies, enjoying time together, playing a sport," heexplains. "[It's] something that we need to do." So, this upcoming springquarter, PUC's intramural program will include kickball.
As a four-yearparticipant in the program, Monnier responds to Paulson's abilities asintramural director. "He does a great job with the program," says Monnier. "I'mreally impressed with it."
Paulson comparesthe experiences he's had with intramurals to his days coaching high schoolathletics. "The most enjoyable part of what I did as a coach was always seeingimprovement, whether it be skill improvement, psychological improvement, orjust plain development of knowledge," he recalls, relating it to what he seesin intramural participants.
Alumni who participatedin intramurals have contacted Paulson post-PUC, saying that some of theirfondest memories at PUC were during intramurals. One such alumna is KristinaRanzolin. "My overwhelmingly positive PUC experience is what it is because ofmy participation in the intramurals program," she says. She was involved inevery sport the program offered during her PUC days. Except volleyball, thatis. "I could never get into volleyball," she says.
"I wish therewere more intramural programs in post-PUC life," she admits. "I'm not a jogger,I'm a team sport kind of girl."
"Intramurals wasan opportunity to spend time with your friends and peers (and sometimes yourprofessors) in a non-academic setting," Ranzolin explains. "It forces you toorganize a group of your friends—or even sometimes strangers who will becomefriends—and do something together. Exercise is always good. Competition isalmost always good. Intramurals is a win all around, for everyone involved."
Years after itsbeginning, intramurals continues to be a popular extra-curricular program atPUC. Students enjoy the program for the stress relief and exercise it provides,but according to Ranzolin, "the best part of intramurals are the relationshipsyou build." The memories that graduates have of their participation and thosethat current students are making are those lasting memories that their PUCexperience just wouldn't be the same without. "I'm proud of the fact that weget to be part of that," Paulson notes with a smile.
Visit the theintramurals Facebook page, RecRadio.org, updated daily, for further information and photos.
Search
Keywords
Archive
PUC in Outside News
Campus Updates