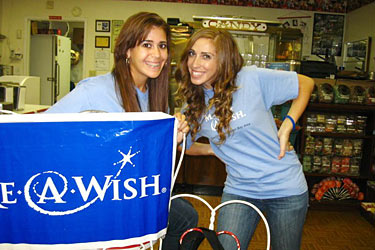 Ever since Rayna Duran was young she has had a great passion for wanting to help people, but prior to joining the Make-A-Wish Foundation she didn't know how to put her passion to actions. There were two events that helped Duran solidify her future for helping people. The first was seeing a movie called My Sister's Keeper, about a young girl's terminal illness and how it affects her family.
"This movie cut me to the core and I was able to safely say I wanted to work with children in the hospital and volunteer my time to help them out," said Duran, a junior business major at Pacific Union College.
The second event was a Jonas Bothers concert she attended. "I respect them very much for their ability to stand strong for what they believe in," said Duran. "Nick Jonas sang a song, 'A Little Bit Longer' which was a song about his diabetes and also to inspire young children who are having a difficult time medically that there is a light at the end of the tunnel."
The movie and concert had such a profound effect on Duran that she knew God was showing her the path that he was paving for her. Later, Duran saw an advertisement for the Make-A-Wish Foundation during a baseball game. She knew instantly that this was what she wanted to do. Soon after this revelation Duran applied for an internship in 2009 with the Make-A-Wish Foundation in San Francisco, Calif., and was accepted for the position.
"I think I screamed and jumped for excitement," said Duran.
That summer Duran became a devoted volunteer, managing the Acro Wish Star Program and raising a significant amount of funds for wishes—which can cost $7,500 to $10,000.
After Duran's internship she was still so inspired she decided to start a Make-A-Wish Foundation club at PUC. Duran knew that she would need help, so she called her younger sister Arianna to be a co-president of the club. Arianna is currently a sophomore at PUC, majoring in emergency services and communication
"I couldn't have been more thrilled. My sister and I love children, and the Make-A-Wish Foundation. We were blessed to be given this opportunity," said Arianna.
The club "Wish Makers on Campus" is focused on creating awareness for college students about the Make-A-Wish Foundation and how they can make a difference in a sick child's life. The Durans' main responsibility as co-presidents is to perform the behind the scenes duties of organizing events, conducting meetings, and promoting the foundation. Duran reports the activities of the club to the Make-A-Wish Foundation headquarters in San Francisco, which supports the club.
"Some events that our Wish Makers on Campus are planning are some smaller events such as a movie night and a Valentine's event. Our main event is an amazing benefit concert with some outstanding well-known Christian artists on April 9, 2011," said Duran.
In addition to their involvement with the club, Duran continues to volunteer with The Make-A-Wish Foundation. Both sisters serve as wish granters—volunteers chosen to work diligently to make wishes come true for children who are selected. Given the passion she has brought to the organization, it is no surprise that Rayna was honored as the San Francisco chapter's Volunteer of the Month in October.
"I was so shocked and surprised. I loved every moment at my internship and I was all teary eyed because they honored me for my time. Their words were so kind and thoughtful and I am so thankful to the Greater Bay Area Chapter for fulfilling my dream," she said.
For more information about the Make-A-Wish Foundation visit www.wish.org.
Search
Keywords
Archive
PUC in Outside News
Campus Updates