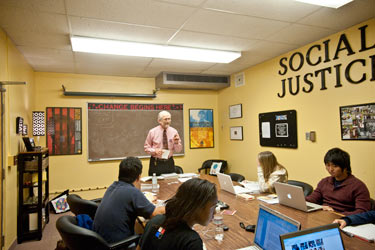 The Pacific Union College department of psychology and social work celebrated social justice on Thursday, November 4, in a dedication of the new Social Justice Room, Davidian Hall 106, to Gordon Madgwick and Evaline West. The event honored Madgwick's and West's promotion of social justice through their contribution to Adventist education.
The Social Justice Room is expected to function as a space for planning social justice activities and to serve as a reminder in class and departmental meetings of the relationship of social justice to the department's core values of diversity, free inquiry, service to God and humanity, and responsible citizenship.
"We [want the Social Justice Room] to be a working space that [will] continually engage and challenge us to put our hands to whatever project is needed at the time… We hope that the students and teachers who are here 20 years from now will use this space to fight injustice as it is expressed then," said PUC psychology professor Aubyn Fulton in his opening remarks.
Professor of religion and social science Greg Schneider spoke in memory of the late Madgwick, who served at PUC as vice president of academic affairs and academic dean. "Gordon Madgwick dedicated his life to ventilating our … household of faith so that the Spirit might inspire his students, his colleagues and his children with a love of the divine gift of life and a passion that all human beings equally enjoy that gift."
Professor of social work Monte Butler spoke in praise of West, who came to PUC in 1979 to teach in the behavioral science department. Within a year, she turned the major in behavioral science with an emphasis in social welfare into a bachelor's in social work and saw the program through multiple accreditation processes. Butler credited the existence of PUC's social work program today to West's "hard work and skillful intervention." West is currently PUC's professor emeritus of social work.
West herself also spoke and urged the students present to "Embrace the person you are—the person God created you to be—and encourage every other person you associate with to do the same for themselves. And for goodness sake," she begged, "don't stymie anyone from being that person. If you'll do that, I can tell you, you'll have a very pleasant journey."
Search
Keywords
Archive
PUC in Outside News
Campus Updates