Teaching Robots in Fisher Hall
By Larry Pena on July 7, 2009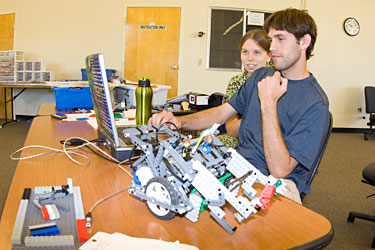 It's obvious that something very important is going on in Fisher Hall, home of Pacific Union College's art department. Here and there throughout the large open classroom, little groups of people are huddled around laptops and elaborate mechanical setups, gesturing and poking, arguing and collaborating in hushed but hurried voices. Each little cluster is a buzzing frenzy of tension and activity.
And then moments later, they step back and unleash their creations: robots designed to rescue the planet.
Robots built out of Lego blocks.
It's a summer workshop called Lego Robotics, and this is the first time the four-day course has been offered at PUC. The class teaches current and future middle school educators how to participate-and get their students involved in-a national organization called FIRST Lego League. The league holds regional and national competitions where student teams design, build, and program innovative robots based on Lego Mindstorms NXT Intelligent Brick robotics platform. The robots are then tested on a standard course to complete a timed set of functions.
Rick Nelson, a teacher at Chico Oaks Adventist School in Chico, California, is presenting the workshop. He and students from his school have been involved in FIRST Lego League (FIRST stands for "For Inspiration and Recognition in Science and Technology") and its church-sponsored sister organization, Adventist Robotics League, for three years, and now he wants to pass the benefits of the program on to other educators. "I hope that once these teachers are familiar and comfortable with the technology, they will be more likely to pursue using this resource and becoming a part of FLL or ARL," says Nelson.
The two robotics organizations are aimed at promoting science and technology education among middle school students, as well as fostering the development of important life skills. "Students learn to solve real-world problems using engineering, and technology, and do so with as much creativity as they can muster," says Nelson. "They learn to cooperate and collaborate as a team, dividing tasks and responsibilities, in order to be successful. They learn to deal with adversity and work to overcome it. They learn the value of gracious professionalism and that what they learn is more important than what they win."
Since this year's FLL theme was climate change, Nelson has his workshop attendees design their robots to perform on a course simulating the challenges of climate research and environmental protection. Tasks for the robots to perform include delivering items representing funding and equipment to an Arctic research station, trapping and disposing of balls representing carbon pollution, rescuing a toy polar bear, and turning off the lights in a Lego house. Attendees seem to have a great time working to meet the challenge.
"It's just a bunch of teachers having fun, trying to help our students have more fun," says Deborah Joplin, a teacher from Bayside Christian School in Hayward, which has already started its own Lego robotics team. "This is me learning how to do it better."
The workshop has been an inspiration to many of the teachers who haven't worked with Lego robotics before. "We learned how to build a robot!" exclaims Neva Gaskell, a teacher from Clearlake Seventh-day Adventist Christian School. "I definitely want to get it for the school." Her teammate, Vicky Rosales from Vacaville Adventist School, agrees. "I want to teach this class," she says.
The prospects are especially exciting for the two newest teachers in the workshop. Caleb and Lana Rasmussen are two PUC education majors finishing up their teaching credentials, and will be starting at Chico Oaks in the fall. "I'll get to see how this goes next year," he says. "But if I can raise the money to get a kit like this for my classroom, it would be something really enjoyable for the kids to do."
Nelson is just excited to be passing on the experience of inspiring students with this project, and not only in the fields of science and technology. "I hope that these teachers get a sense of the fun and the learning that's involved being a part of the FIRST Lego League program," he says. "There's a lot of teamwork and it opens up a lot of opportunities for helping the kids learn how to cooperate and collaborate and settle conflict, and all those things can be positive."
Search
Keywords
Archive
PUC in Outside News
Campus Updates