Heubach's Legacy Brings Barry C. Black to PUC
By Lainey S. Cronk on December 18, 2008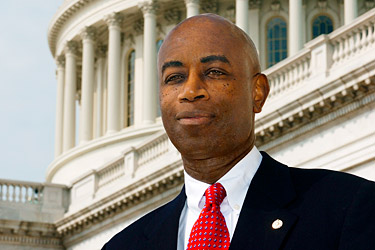 United States Senate Chaplain Barry C. Black is speaking at Pacific Union College on March 7, 2009 for the Heubach Lectureship series. The lecture is in the PUC Church sanctuary and starts at 5 p.m. A book signing will follow. Admission is free of charge.
Black was elected the 62nd Chaplain to the Senate in June 2003. He is the first African-American, the first Seventh-day Adventist, and the first from a military background to hold this position, and he has also gained a reputation as one of the nation's foremost speakers.
Prior to his appointment, Black had a long career in the U.S. Navy, starting as Navy Chaplain for the Fleet Religious Support Activity in Norfolk, Virginia, in 1976. He rose to the rank of rear admiral and ended his 27-year career in the military as Chief of Navy Chaplains.
Black's 2006 autobiography, From the Hood to the Hill: A Story of Overcoming, follows Black's beginnings in the Baltimore ghetto to the halls of Congress. Black has also received awards such as the NAACP Renowned Service Award and the Benjamin Elijah Mays Distinguished Leadership Award, in addition to the personal decorations, unit awards, and service medals he earned as a rear admiral.
An alumnus of Oakwood College, Andrews University, North Carolina Central University, Eastern Baptist Seminary, Salve Regina University, and United States International University, Black has master's degrees in divinity, counseling, and management, and doctorate degrees in ministry and psychology.
The Heubach Lectureship Series honors Paul C. Heubach, a graduate of PUC and a theologian. Heubach, who passed away in 2001, taught and pastored on the West Coast and served as the dean of Walla Walla University's School of Theology. He also wrote books and articles and received many awards in his lifetime.
In 1998, PUC established an endowment in Heubach's honor. The lectureship brings significant speakers to the PUC campus once every two years with the goal of examining the great central truths of Christianity in light of the character of God, by using simple language -"in terms understood where people live."
Search
Keywords
Archive
PUC in Outside News
Campus Updates