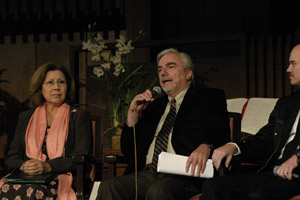 "Please keep your questions succinct," requested Student Association Executive Vice President Adam Weeks. Students began to line up behind the three mics, waiting for their turn to address questions to the onstage panel consisting of the college president, all four vice presidents, the chief of Campus Security, the chaplain, and the SA president and executive vice president.

In this colloquy program on January 6, organized by the Student Association and conducted like a town hall meeting, the floor was opened to discussion between students and the panel. Questions regarding plans for housing arrangements, weight room and Internet upgrades, and required program attendance were raised. Others asked about married student issues, the student senate situation, and the new assessment seminar required of all seniors.

Not all the students felt that their questions were answered satisfactorily; but, all in all, the atmosphere was positive as the campus had a chance to verbally address major issues and hear the personal responses of the administration. The attentiveness (and occasional outbreaks of laughter or applause) of the audience showed that they were paying close attention.

And as both President Richard Osborn and Vice President of Student Services Lisa Bissell Paulson reminded the assembly, the administration welcomes feedback from students and strives to provide solutions and an atmosphere of open discussion.
Search
Keywords
Archive
PUC in Outside News
Campus Updates