Spring Colloquy: A Sense of Pride
Lainey S. Cronk, April 10, 2008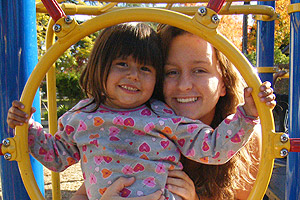 In the first all-school colloquy program of the spring quarter, PUC embarked on the third phase of its year-long emphasis on service. The spring quarter colloquy theme is "A Sense of Pride," and campus chaplain Roy Ice introduced the program by saying, "This quarter we're going to do a little celebration … by saying, 'Look what God has done.' We're celebrating what has happened and asking, 'How much more can we do?'" Ice told students, "I want to challenge you … to really think about what the goal of God's command [to love] really is."

Service has been very real to students this year, with new students getting involved in existing projects and starting up new ones. During the colloquy program, students gave personal accounts of the service they've been involved with this year.

Student Krista Brieno recounted how, inspired by World AIDS Day on December 1 and the realization of how many resources we have at PUC, she asked the church for money — and, inspired by Gideon, asked God that they would raise $1,000. During the two services that morning, $2,100 was contributed to support ADRA's fight against AIDS.

Later, when planning a womens prayer breakfast for the Womens International Day of Prayer, Brieno again asked God for specifics, requesting 200 attendees. When 100 women showed up, Brieno learned a valuable lesson — that the significance wasn't in the numbers, but in the powerful experience that came that morning and in how many people were touched. "You cannot give without feeling God's blessing in return," Brieno concluded.

Students Lauren Waychoff and Matt Randall shared about Kidz Reach, a ministry that partners with the prison ministry at a local church and spends time each Sabbath with kids from underprivileged and troubled families. Waychoff explained that the ministry "has fulfilled a spot in my heart that I've never been able to get from a ministry."

Two more students, Justin Torrosian and Michelle Jenkins, shared about Mission in Action, a group that has determined to see even the Napa Valley as a place for outreach. To break down barriers and gather ideas, they developed a short survey asking people about needs observed in the community. Then they went door-to-door with their survey, also gathering food or clothing donations and providing religious material to those interested. Mission in Action also meets weekly for Bible studies.

The final presentation recounted how a canceled Mozambique mission trip led student Sean Brizendine to change his plans and travel to a Navajo reservation in Arizona, where he and a group of Pathfinders built an addition to a tiny dwelling that housed a family of 11.

After all these stories, Ice concluded, "We've got three months [left in the school year] to say, 'God, what would you have me do? How can I change the world?'" Ice challenged PUC to have a religion and spirituality that's not just self-focused, but focused on how we can change the world around us.