Member of Original Mac Team Shows Photos at PUC
Lainey S. Cronk, September 29, 2008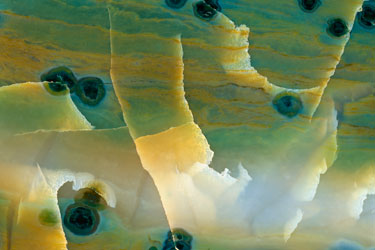 Bill Atkinson was a member of the original Macintosh team at Apple Computer, designing much of the initial Macintosh user interface and writing some of their original software. Now Atkinson is pursuing his life-long passion of exploring and photographing nature, and he presents his "Within the Stone" photography exhibit at the Rasmussen Art Gallery in Angwin on October 4.

"Within the Stone," also the title of Atkinson's recent photography book, highlights the photographer's passion for nature in a unique, close-up way. The exhibit features photos that reveal astonishing color, form, and hidden landscapes in the surfaces of art-quality polished stones. "By photographing cut and polished rocks he has created an extensive collection of evocative images that look more like abstract paintings than photographs," writes Robert Hutchinson.

As a successful photographer and fine art printmaker, Atkinson also teaches workshops and has presented to over three hundred photographers. His work has shown in exhibits in California, Colorado, Oregon and New York, and he has been featured in various publications.

Atkinson will be present at the exhibit opening for an artist's talk. The opening takes place at Rasmussen Art Gallery on the Pacific Union College campus on Saturday, October 4, 7-9 p.m. The artist's talk will take place at 7:15. "Within the Stone" will be on exhibit through October 26, and regular gallery hours are 1-5 p.m. Saturday, Sunday, Tuesday, and Thursday. Admission is free of charge. For more information, call 707-965-6303.