Local Students Attend Sundance Film Festival
Lainey S. Cronk, February 11, 2008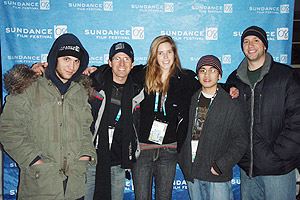 For the second year, several students from Pacific Union College made a special trip to the Sundance Film Festival, the largest independent film festival in the United States, from January 23 to 28. The students were accepted into the "University Students at the Sundance Film Festival" program, a competitive program that allows a limited number of students each year to attend the festival.

As part of the program, PUC students Jackson Boren, Craig Church, and Ryann Pulido and alum Annie Woods earned film credentials, had access to filmmaker-only areas at the festival, received discounted tickets and lodging, and had the opportunity to meet with other students.

"The Sundance Film Festival is a unique experience because it attracts thousands of people from all over the world into a small skiing town for 10 days to experience the best in U.S. and international independent cinema," said Stephen Eyer, a PUC film and television instructor who attended the festival with the students. "For students to be able to experience the festival first-hand is both inspirational and something they will never forget."

The group saw many films, including "Bottle Shock," a film shot in the Napa Valley last summer about the 1976 French wine tasting that established the Napa Valley as a world-class wine-growing region, and award-winning film "Fields of Fuel" about alternative fuel sources.

The experience and connection with the independent film world was priceless for the college students. Film and television major Ryann Pulido said, "It was worthwhile for me because it helped me see what was out there. Instead of just seeing the projects [at PUC], I wanted to see what the professionals were doing." Eyer added, "The Sundance Film Festival provides an opportunity for students to experience first-hand where the future of independent film is headed."