Introducing PUC Green Week
Elizabeth Rivera, April 16, 2008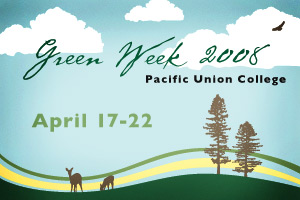 Thursday, April 17, begins the first Green Week at Pacific Union College. In an effort to promote awareness of eco-friendly living, PUC has planned six days of fun activities that inform, entertain and encourage participation in taking care of our local and global community.

Green Week kicks off at 7 p.m. Thursday, April 17, in Dauphinee Chapel with a lecture by Dr. J. Matthew Sleeth, author of Serve God, Save the Planet. A former emergency room doctor, Matthew Sleeth will share his personal and spiritual journey to environmental stewardship and discuss sobering rationale for life changes, and a "how-to" guide for lifestyle changes that will help care for others and protect the earth. Admission is free of charge.

Other Green Week activities include an Angwin trash-pick-up day on Friday, April 18, 2-5 p.m. and an Earth Day Bazaar on Tuesday, April 22, 11 a.m. - 2 p.m. Electric cars will be on display and available for rides. Other bazaar activities include a thrift shop on campus, tours to the co-generation plant and live music.

Come learn more about how to take care of your planet and participate in PUC's first Green Week. All events are free of charge and open to the community. For more information, please call 707-965-6303.