Film & Television Program Films The White Abyss
Jackson Boren, April 9, 2008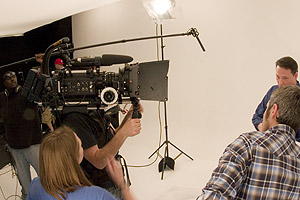 On March 30 the PUC film and television program began the production of its annual senior digital film project, this year entitled "The White Abyss," and wrapped up shooting four days later. Directed by student Craig Church, the post-apocalyptic short was shot on location at the PUC farming facilities in the old dairy. In the tradition of the program's major productions, the shoot was a family affair, drawing a fully-volunteered crew of nearly 15 film and television majors, as well as the help of various non-majors who found their place on set.

The film is the third in a line of diversely ambitious pieces to come from the senior digital film class. In 2006 Eryck Chairez helmed the award-winning "Three Courses," which was followed the next year by Zach Dunn's "Thunder and Lightning." Like the projects before it, "The White Abyss" offers students a unique type of hands-on, real-world filmmaking experience that cannot be taught in a classroom. The roles of producer, art director, sound engineer and cinematographer were all given to students and allowed them to hone their skills with professional actors and high-quality equipment. Director of photography Ryann Pulido, a sophomore, said, "I've really grown a lot from working on Craig's film. I think that this film really captures the spirit of independent filmmaking and has raised the bar for our program."

This production set new precedents in both acting and equipment, as the program rented a new RED digital film camera and hired an entirely professional cast for the shoot. Executive producer and film instructor Stephen Eyer states that the clarity and resolution of the RED camera makes it "pretty revolutionary. It just came out a year ago and it allows independent filmmakers to produce films that look like they were shot in Hollywood." The professional cast of Bay Area actors also brought a new level of efficiency to the project.

As the writer of the film, Church says that "The White Abyss" is a story that is both poignant and timely in its message of peace. The plot centers around five survivors of an unspecified worldwide disaster who seek shelter within an abandoned warehouse. As they strive to protect themselves from outside attackers they begin to doubt each others' motives and question who the real enemy is.