Faculty Honored
Lainey S. Cronk, May 1, 2008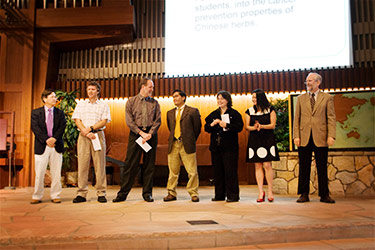 "Our job as teachers is to make ourselves obsolete — to point you in the right direction and get out of the way." The words of Cynthia Westerbeck, English professor and 2007-2008 Educator of the Year, opened the annual faculty awards program at Pacific Union College on April 24.

At this program, faculty were honored for achievements and service that made them part of what Westerbeck described as "all simultaneously engaged in the quest for knowledge." She told students, "The greatest reward we can receive as teachers is to be replaced by you."

Faculty members received awards for original work, grants for upcoming research, and Meritorious Service Awards.

Awards for original work are given each year to professors who, in addition to maintaining their focus on undergraduate students, have also published, presented, or researched work, outside of Angwin, in their discipline. Twenty-four faculty members received awards for work ranging from solo art shows to poster sessions at professional conventions.

Seven faculty members received Herber Grants, which are funded by the Herber Family Endowment, established in 2006 to facilitate teachers in their quest to achieve and sustain innovative, quality instruction.

Herber Grants were awarded to biology professor Floyd Hayes for a project monitoring the breeding population of fish-eating birds in Clearlake; to associate history professor Paul McGraw for research at the Ellen G. White Estate; and to assistant chemistry professor Ray Rajagukguk to attend a combinational chemistry workshop. Assistant English professor Maria Rankin-Brown received funds for research on Japanese literary behaviors; professor of religion and social science Greg Schneider and English department resident artist Mei Ann Teo will present on documentary theater at the annual meeting of the American Academy of Religion; and biology professor Brian Wong will continue research in cancer prevention.

The final awards presented, the Meritorious Service Awards, are only given in special instances of service. Lloyd and Jennifer Best, associate professor of mathematics and director of the Teaching and Learning Center, were honored for establishing and running PacificQuest, a program for academically advanced junior high and high school students. Greg Schneider, professor of religion and social science, was honored for establishing and sponsoring PUC's chapter of Amnesty International and for his major role in the play Red Books. Mei Ann Teo, resident artist, was recognized for promoting intergenerational conversations about our Adventist heritage through the co-creation, production, tour, and DVD production of Red Books.