Dirt Classic Brings 415 Mountain Bikes to Angwin
Lainey S. Cronk, April 15, 2008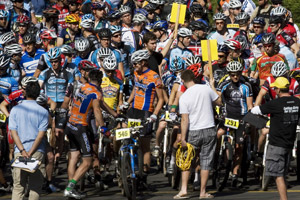 A summer-like day welcomed 415 pairs of wheels to Angwin on April 13, along with 415 helmets gleaming in the sun — and every imaginable color of spandex.

The event was the 2008 Napa Valley Dirt Classic mountain bike race, an annual 22-mile ride that is part of the NorCal Mountain Bike State Championship Series and is hosted by Pacific Union College on its back trails.

The pre-race hours welcomed a wide spectrum of riders to the campus, from two in the 14-and-under category to PUC alumni and student riders, and both local and out-of-town (and even out-of-state) participants. "We'll see how it goes," said student Zack Belnap, who had been "training pretty easy" because he thought the race happened later than it actually did. But he seemed optimistic under his helmet, and four of his PUC classmates were there to cheer him on. "We'll be here for the start, go get breakfast, and be back in time for the finish," grinned one of Belnap's friends.

It turned out to be a good race, though warm. Barry Wicks won at 1 hour, 23 minutes and 44 seconds. "It was a great day," said Mike Hellie, race director and chair of PUC's exercise science, health and nutrition department. He also cited the sponsors, local and international, as making possible a great raffle at the end of the race. The race did result in three accidents this year — two broken bones and a separated shoulder, which is typical for mountain bike races, though the Dirt Classic had enjoyed several years without any broken bones. Hellie expects that this year's really dry conditions contributed, along with some rough areas of the course caused by heavy rains earlier in the year. Overall, however, he called it "a really good ride."

The race concluded at the track, with sponsor booths and canopies set up in the center and a big red FINISH banner at the line. The first, second, and third finishers in male pro category and female pro category won cash prizes, and the top finishers in all categories received custom trophies.

The race began years ago as the "Romp Stomper" and became the Dirt Classic in 1994. The PUC exercise science department also hosts the Howell Mountain Challenge each August, a 10-mile multi-loop race. Funds raised from the events benefit PUC recreational projects.