Darfur Conflict Survivors Speak at PUC
Carissa Smith, February 14, 2008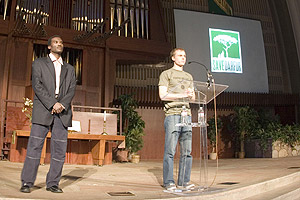 Not many of us can say we have felt the demoralizing effects of loosing 20 family members in a single day. Ibrahim Musa Adam, a former farmer and volunteer teacher, was one of two survivors from the Darfur conflict region in Sudan who shared his first-hand account for Pacific Union College's February 7 all-school colloquy program.

Adam lived in northern Darfur in the village of Jadara. His village of about 3,000 was attacked in July of 2003 by the Sudanese army and members of the Janjaweed militia. Eighty villagers, including 20 of Adam's family members, were killed. Adam still has over 100 relatives in six different refugee and internally displaced persons camps, and more than 80 villages have since been attacked. "They collected women and girls. One girl was raped over 20 times," Adam told the student body at PUC, who listened in stunned quietness. "Some were able to escape because the Janjaweed don't know the Darfur terrain very well."

Today Adam lives in Rockford, Illinois. He hopes to one day return to Darfur and help rebuild the region. Meanwhile, he shares his experience with the "Voices from Darfur" speaking tour and takes part in activist organizations.

The second speaker at the colloquy program, veterinarian and author Abu Asal, grew up in Al-fashir near western Darfur. While in college, he joined the Darfur Students Association which protested the mistreatment of the Darfurian people. Students loyal to the new regime stabbed another student, which led to massive campus protests, with two students killed by resulting police shooting. Asal and other men were arrested and taken to a ghost house where they were tortured and beaten. Asal considered himself lucky to have been released after just one day.

After the ordeal, Asal published several articles in Khartoum's Al-Hurriyah newspaper, which criticized the Sudanese regime. In 2003, he was exiled to Egypt because one of his short stories was considered too insensitive of the Sudanese government.

Asal worked for the Sudan Organization Against Torture, Refugee Legal Aid Project, and the Africa and Middle East Refugee Assistance while living in Egypt. He moved to Massachusetts two and a half years ago, and works on his third novel when not touring with "Voices From Darfur."

Young adults have traditionally been at the fore front of social justice movements, and Asal hopes Darfur will be no different. "We need volunteer workers in Sudan and we need pressure placed on our government. It's an election year, and these candidates can help turn the focus on the victims." Asal's last few words reminded the audience of a familiar belief. He urged that we think of the people of Darfur as our own kin. As human beings we are all part of the same race, all connected by bonds of brotherhood and sisterhood.

As the morning program came to a close, both speakers stayed to answer questions from the audience. Asal mentioned that both sides of the conflict are from the Muslim faith. The conflict is over power, and while Sudan is surrounded by nine different countries, no Muslim or Arab country is willing to help. "Governments are not always concerned with human rights," Asal reiterates. Some countries are even trying to protect the Sudanese government because of economic ties.

"Voices from Darfur" is a national speaking tour sponsored by the Save Darfur Coalition in Washington, D.C. The tour features first-hand accounts from refugees who escaped the conflict region. "Voices from Darfur" speakers Adam and Asal were invited to PUC by the PUC chapter of Amnesty International. The group works to spread information and awareness about injustice and social issues, as well as taking action by writing letters to political leaders. The club has monthly meetings and information sessions.