Winter Revival: A Time for Stories
Morgan Chinnock, January 25, 2007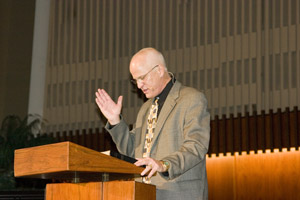 To start winter quarter off right, students, faculty and staff turned their thoughts toward the divine during the daily "Winter Revival" meetings from Wednesday, January 17, to Sabbath, January 20. The speaker was Terry Swenson, the Loma Linda University chaplain. For each meeting, Swenson chose a different role that we as humans are familiar with, and then described God in those terms.

In his talk for Thursday morning, Swenson compared God to the Lion King, recounting a scene from Disney's "The Lion King" in which a pack of hyenas corners Simba and his playmate, Nala. The two baby lions are helpless in the face of the hyenas until Simba's father, Mufasa, shows up with a roar to save the day. Using this example, Swenson made the point that God is the most powerful force in the universe, and He wants to use His power on our behalf if we will only accept it. Swenson connected easily with his audience by telling such familiar stories. Student Elisabeth Reeves said, "I like the fact that he made sound effects because they kept my attention better. I enjoyed his stories because they were easy to remember. Who can forget the Lion King?"

Other roles Swenson compared God to were Patient Sculptor, Restrained Redeemer, Just Judge, Organ Donor, and One-on-One Coach. "Swenson really worked hard at getting his point across to the audience, and he did it in a way that seemed relevant. The talks did not feel like a lecture," said student Zach Dunn. It was that non-lecture tone of Swenson's talks that allowed for the deeper spiritual meaning to resonate with the audience. After all, even the scholarly community of PUC needs a good story to connect them with God.