Theatre Comes to Stauffer
Lainey S. Cronk, January 17, 2007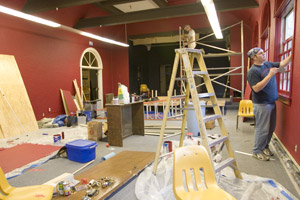 Back when Stauffer Hall was known as Paulin Hall and housed the music department, a small auditorium was located upstairs, its stage and high ceiling infused with years of music. More recently, offices were built over part of the stage, and the remaining space served as a class and conference room for the English department and for some years as a test-taking space for the Counseling Center.

Now the 75-year-old room is entering a new phase. The office walls on the stage were torn down and the motley assortment of chairs, whiteboards and shelves was carted out. The tired white of the walls gave way to violet primer, followed by rich coats of elegant crimson paint. The high ceiling with its massive dark beams and the many windows with their small panes and topped with arching yellow glass perfectly complement this new look.

The theatre will provide the drama program with a much-needed "sacred space" that's dedicated to their needs. The theatre is small, but the department will work with that. "With a smaller space you can do things that are a little edgier, you can take risks," explains drama program director Mei Ann Teo. Students have an opportunity to do performances that wouldn't necessarily draw a large enough audience to fill one of the larger auditoriums on campus. "This is the first phase," says Teo. "But I think it is going to serve us very well for the next few years."

"We're so lucky to be getting at least part of our dream," says Marilyn Glaim, chair of the English department. "We still hope for a 150-seat 'real' theater someday, but for now we're going to make good use of this."

A large gift from professor emerita Alice Holst allowed them to start work on the dream. Holst has been in Angwin since 1948. She taught in and was chair of the secretarial science department. "All my life has been young people," says Holst. "I was concerned that students were going off campus to do things that should be done on campus—not only to perform but also to see performances. It seemed to me that it would be better if we could have the resources and drama on campus. The more we can do on campus, the more students will feel like it's home."

Still, there's much to do. "We have a long way to go," says Teo, listing technology needs such as a lighting grid, PA system, and film capability. "I want to emphasize how generous people have been," she says. "And that we need more to be able to do powerful things and grow the program."

The space will be used for the classes, rehearsals, and performances of the drama program, but also for other classes, student performances, and possibly a film viewing location for the film & television program. "We hope it becomes a real center for artistic pursuits," says Glaim.

Teo has been inspired by the support Glaim and Nancy Lecourt, current academic dean and previous English department chair, have shown for the project. "They could see how good it was for students to have a space, to have ownership, and for the school to have ownership over a drama program," explains Teo.

The first performance in the new theatre will come at the end of February and is an original, collaborative work called Red Books, exploring the impact and relationship of Ellen White to the Seventh-day Adventist church through the years.