Students Receive Awards for Film Projects
Lainey S. Cronk, April 17, 2007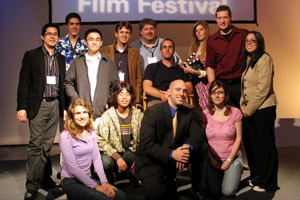 Four Pacific Union College students came away from the annual SONscreen Film Festival in Simi Valley, Calif., April 12-14 with top awards for their films. Uly Mostrales, Brian Bazemore, TJ Gleason, and J.R. Rogers won Best Music Video, Best Drama, Best Documentary, and Best of the Fest (grand prize), respectively.

The grand prize film, titled "Three Courses", is the story of three different couples who find, lose and re-establish love over the course of dinner in an elegant restaurant. It is not only a love story dedicated to the different paths that relationships take, but is also a love letter to the art and food culture and the role that it plays in the most important moments in our lives. "Three Courses" was the work of PUC film and television students; Rogers, the producer, worked with director/writer Eryck Chairez, production manager and editor Brian Bazemore, and art director/writer Jackson Boren to create the film.

The SONscreen Film Festival is a destination for established and up-and-coming Christian filmmakers to share their creative work, gain exposure, and network with other media and film professionals. Since the festival debuted in 2002, a number of PUC students have received prizes for their dramas, public service announcements, documentaries, and comedies.

Ten PUC students attended this year's festival, along with instructors Terry Cantrell, Stephen Eyer and Milbert Mariano, chair of the PUC visual arts department. "The film and television program is an important part of the future of media, and our students are committed to creating positive change within the Adventist church and the world-wide media industry," said Mariano. "Our commitment and love of the craft of storytelling through film and TV has been validated by our achievements and awards at SONScreen."

In addition to film and television, the visual arts department of PUC offers majors in fine art, photography, and graphic design, and minors in art history and fine art. It is one of the largest programs on campus, and the film and television program has 27 students this year.