Senior Film Festival a Success
Christopher Togami, June 7, 2007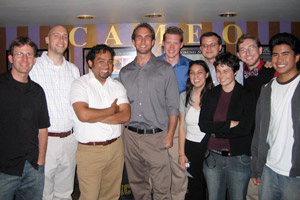 For the first time, PUC held its annual Senior Film Festival at the Cameo Cinema in St. Helena. Both of the June 3 screenings, which featured five short films written and produced by seniors in the film and television program of the visual arts department, were filled to capacity. Use of the local movie theater as this year's venue allowed the students to showcase their work to a broader audience.

Stephen Eyer, instructor in film and television, was excited about the festival's turnout. "There is something magical about experiencing movies together as a community," said Eyer. "It was great to see students, faculty, and staff from the college, as well as many local community members coming together to enjoy these stories."

Also on display was the program's new 20-foot mobile production trailer, the brainchild of festival producer and senior film and television major J.R. Rogers. The trailer, outfitted with all the equipment necessary to perform multi-camera and off-campus shoots, was open to the public for tours. "People were amazed and astounded at what PUC has done with the film program and with the trailer," said Rogers referring to the trailer as well as the numerous awards that student films have won this year. In April, film students took home several awards at the annual SONscreen Film Festival, including the award for Best of Fest, the festival's grand prize.

The visual arts department of Pacific Union College offers majors in fine art, photography, graphic design, and film and television, and minors in art history and fine art. It is one of the largest programs on campus, with nearly 100 students enrolled in the various disciplines.