"Red Books" Extended by Demand
Julie Z. Lee, March 21, 2007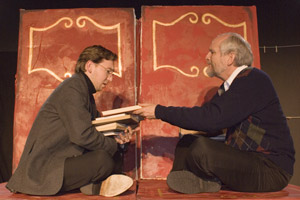 The Dramatic Arts Society of Pacific Union College has extended its run of the play "Red Books: Our Search for Ellen White." There will be four more performances beginning April 3, 2007.

More than 600 people attended the first run, booking nearly every show to full capacity. Due to the continued interest in the show, Mei Ann Teo, resident artist and "Red Books" producer, decided to add another week of performances in addition to taking it on tour in the fall to select locations.

"Red Books" explores the Seventh-day Adventist community's relationship with its founder, Ellen G. White. Using excerpts from some 200 interviews with current and former Adventists, the play travels through four generations of a religion and their perspectives on White to create a riveting discussion about icons—why they are built, destroyed, and forgotten and the impact on a faith community.