PUC Raises $18,745 to Aid Work in Africa
Lainey S. Cronk, May 27, 2007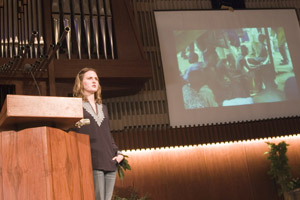 Following a riveting presentation on the human rights violations of prisoners in Guinea Conakry, Pacific Union College students, faculty, and staff donated $18,745 to aid a prisoner advocacy program.

Kim Osborn, a young social activist who graduated from PUC in 2004, spoke to the campus in March about her past work in the western African country and her decision to return after hearing reports about further violations in the prison system. According to Osborn, the International Committee for the Red Cross recently stated that about 27 percent of the 800 men, most of who have been illegally detained, are severely malnourished.

"If things continue at the rate they are going, one in ten men entering this prison this year will die because of starvation," said Osborn, who helped to establish the prisoner advocacy program in Guinea Conakry. She encouraged the college to give donations to go towards medical aid and for court processing fees. It costs $50 to hospitalize a malnourished prisoner and save their life and only $15 to put someone through the court system so that they can be released.

"If everyone here donated the amount that you spend on one Guigni's sandwich, think of the amazing thing that PUC could do," said Osborn. "I'm here to challenge you to realize that you can never give enough. And that ultimately, in the giving, you are blessed beyond all measure. This is a privilege."

Osborn, who left for Africa in late March, has committed to volunteer in Guinea Conakry for the next four months before beginning a graduate program in African studies at University of California, Los Angeles in the fall.