Heubach Lecture Tackles Age-Old Question
Christopher Togami, February 26, 2007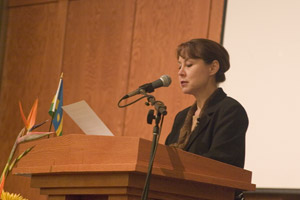 Lisa M. Beardsley spoke about the question, "Why did God Create Satan" for this year's biennial Heubach Lecture. Beardsley, the associate director of education and executive secretary of the Adventist Accrediting Association for the General Conference of Seventh-day Adventists, explored the intriguing realm of human choice and numerous related issues.

Beardsley's topic, a question that both children and adults have pondered throughout history, focused heavily on the connection between free choice, love and happiness, a relationship that she summed up in the statement, "Happiness is love freely given and freely received." Beardsley's travels throughout the world have allowed her to witness atrocities in places like Rwanda, where choice is the privilege of a few, exercised on the lives of many.

Beardsley is the first female lecturer in the history of the Heubach Lectureship Series, which began in 1998 when PUC established an endowment in honor of Paul C. Heubach. The lectureship, which is funded by friends of Heubach, hopes to examine the great central truths of Christianity in light of the character of God by using simple language—"in terms understood where people live." The goal for each lecture is to leave the listener with a clearer comprehension of God, and thus with more confidence in Him.