Faculty Show New Work at Art Gallery
Morgan Chinnock, January 22, 2007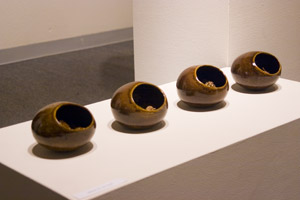 The artistic minds of Pacific Union College's faculty have once again produced an exhibit of variety, depth and beauty. Every year, the visual arts faculty members display their creative work in the Rasmussen Art Gallery, making it clear that as they teach art to students, they continue their own exploration in the field. This year, several contract teachers and artists from other departments were invited to participate and are among the 11 artists who are represented in the show. The "New Work" exhibit had its opening on Saturday evening, January 13, welcoming a diverse mix of student, faculty, and community visitors.

The exhibit contains themes from diverse minds. The floor space of the gallery is filled with sculptures, and two faculty members displayed art in the form of film. The walls hold oil paintings, photographs, graphic images, and even a philosophical digital collage. One thought-provoking section is Thomas Morphis's series of multi-media collages that explore the existence of struggle in life. Another series that offers a glimpse into campus life is Tom Turner's photo display of the new photography lab, the construction of which he has overseen in Fisher Hall over the past year.

The visual arts department offers majors in fine art, photography, graphic design, and film and television; and minors in art history and art. It is one of the most popular majors on campus, with nearly 100 students enrolled in the program.