Campus Welcomes New Management Groups
Julie Z. Lee, August 24, 2007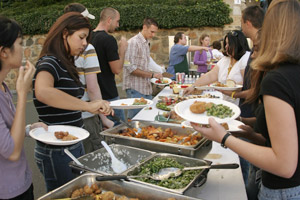 In August, PUC began working with Bon Appetit Management Company for the campus's food service needs. Bon Appetit is an onsite custom restaurant company that provides caf and catering services to corporations, colleges and universities and specialty venues.

At PUC, Bon Appetit serves a vegetarian menu with foods prepared from scratch, using local produce as often as possible, and providing ingredient lists and real dishware.

"The daily service of great food to PUC students is of utmost importance. In our search for the right management of our food service, we looked for a company with a mission that we could share. Bon Appetit's commitment to sustainable food service along with their quality food is what convinced us to work with them," said Lisa Bissell Paulson, vice president of student services.

Bon Appetit currently serves over 17 colleges and universities, and also provides food services for the deYoung Museum in San Francisco and The Getty Center and Villa in Southern California. Bon Appetit is known for their culinary expertise and commitment to socially responsible food sourcing and business practices, and strong partnerships with respected conservation organizations.

The decision to work with Bon Appetit follows the departure of Gloria Roberts, food service director at PUC. Gloria and her husband, Nick, who also worked in the dining commons, will be moving to Washington to be near family.

Most of the current dining commons staff will continue to work at PUC as employees of Bon Appetit, under the leadership of Bon Appetit's onsite manager.

Also in August, Barnes & Noble College Booksellers, Inc., took over the management of the PUC Bookstore. The agreement allows the bookstore to offer improved services such as access to the nation's largest used textbook wholesale company, and is also integrating more efficient applications, including a sophisticated textbook management system.

"It is an honor to have been selected to operate the bookstore at Pacific Union College," said Max J. Roberts, president of Barnes & Noble College Bookstores, Inc. "We look forward to providing outstanding customer service to the faculty, staff and students."

Founded in 1873, Barnes & Noble is one of the nation's largest booksellers. Barnes & Noble College Bookstores, Inc. is a privately-held sister company to Barnes & Noble, Inc. and Barnes & Noble.com. The company operates more than 600 campus bookstores for many of the nation's top colleges and universities, including Yale and Harvard.