Art Students Exhibit Work
Morgan Chinnock, May 30, 2007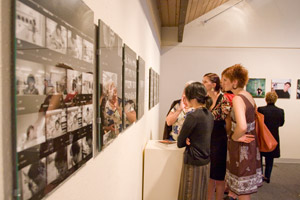 On Saturday, May 26, the Pacific Union College visual arts department will host the opening reception for the senior thesis projects exhibition in Rasmussen Art Gallery, from 7 to 9 p.m. The thesis projects will be exhibited through June 17.

This year's exhibit includes photo-documentary work on diverse subjects from vineyard workers to skateboarders to an autistic girl. Students have also created fashion and art photography, a website, a cookbook and posters about revolutionary leaders.

Senior visual arts majors work on their senior thesis projects all year long. They choose a subject and work closely with a faculty advisor to create what art professor Thomas Morphis calls "an ambitious, consistent body of work."

Rasmussen Art Gallery is located on the Pacific Union College campus. The gallery hosts six shows each year and features work from invited artists as well as from faculty and students.