Annual Herber Grants Awarded at PUC
Julie Z. Lee, May 1, 2007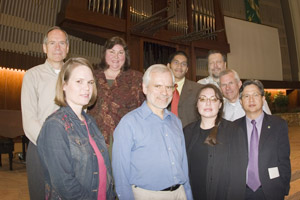 In its second year, the Herber Family Endowment presented ten Pacific Union College professors with grants to aid in professional development. The college announced this year's recipients at the annual Faculty Awards program on April 26.

This year, the awards will finance a range of research pursuits. Bryan Ness, professor of biology, will use the grant to support his efforts in writing a new textbook over the summer. Rachelle Davis, assistant professor of music, will attend a Mark O'Conner San Diego Strings Conference. Other projects include cancer prevention studies, linguistic research, and various professional workshops.

Established by St. Helena physician and PUC alumnus Steve Herber, his sisters Sandra and Susan Herber, and his father Ray Herber, this endowment will annually provide faculty with professional development grants to facilitate teachers in their quest to achieve and sustain innovative, quality instruction.